Yes, New Zealand is a stunner in summer, but there are many reasons we love a winter holiday here. New Zealand winters are fairly mild, and while there is plenty snow to enjoy in parts of the country, you can still expect crisp and clear bluebird days. Aside from the obvious fun to be had on the powdery slopes, here are 10 more reasons you should visit New Zealand between May and August...
1. Glaciers are at their Best
Unlike many glacier parks in the Northern Hemisphere, our glaciers stay open for business throughout winter, which is just as well, because winter is the time of year the glaciers are really at their best.
Clarke Glacier, photographed by Glacier Southern Lakes Helicopters, via Tourism New Zealand
During colder months, there is less melt, meaning less water flowing under the glacier. This means the amazing ice features of the glacier - huge crevasses and ice caves, for example - hang around for longer. And because winter is low season for tourists, you'll also enjoy less crowds out on the glaciers.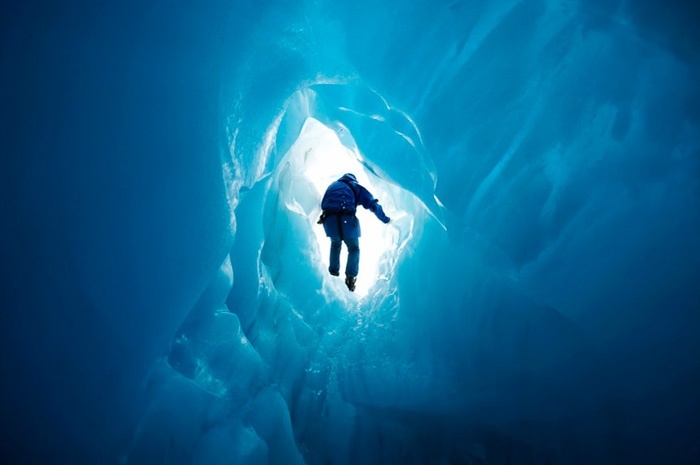 Image via New Zealand travel blog Charlie Distracted
Soar above an ancient river of ice on a helicopter, cruise right up to the towering terminal on an exclusive boat tour (you'll be able to touch and taste 500-year old ice crystals) or don a harness and safety rope and set off on a guided ice climb. And in winter, you can even ski on a glacier - the might Tasman glacier, New Zealand's biggest.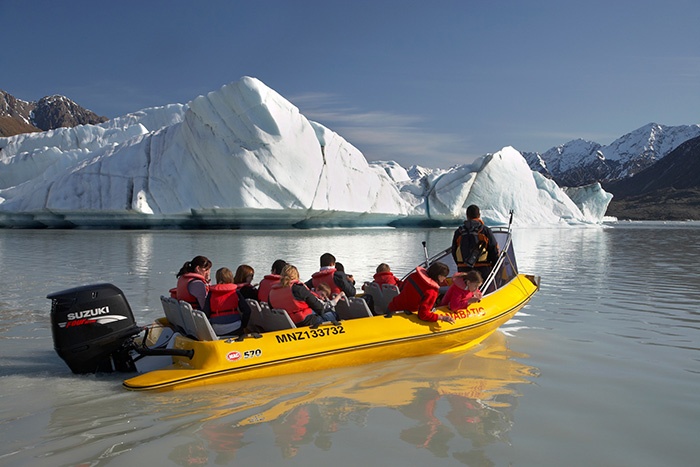 Image by David Wall via Tourism New Zealand
2. Massive migrating whales
Kaikōura is a small seaside community with a worldwide reputation for amazing marine encounters (read more about this great New Zealand destination here). Running just off the coast is the Kaikōura Canyon, a massive submarine trench that's described as one of the world's great undersea wonders. It's system of ocean currents sustain an incredibly rich food chain - from the tiniest plankton, right up to the gentle giants of the sea.
From June to August, Humpback Whales take a 10,000 kilometre journey from Antartica to Australia and Tonga, passing through the waters around Kaikōura. This is a sensational time to join a Whale Watching tour, as not only will you see the mighty resident Sperm Whales of this area, you're likely to also see humpback whales! Witness their amazing acrobatics as they propel themselves right out of the water and breach, and hear their hauntingly beautiful whale song, as your boat is equipped with special equipment to do so.
Image via New Zealand Department of Conservation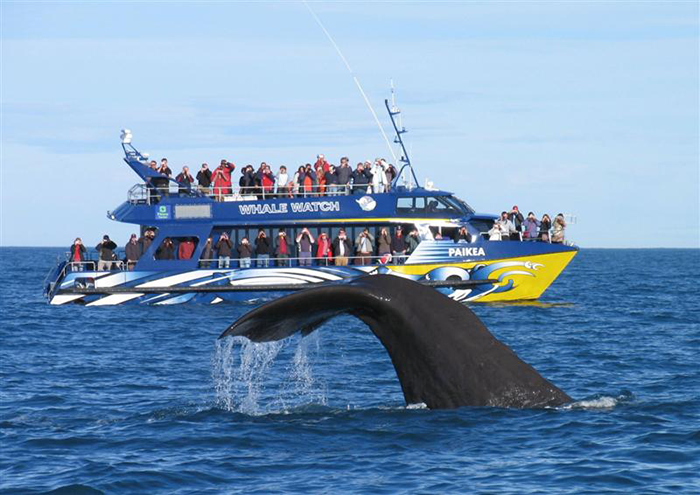 Image via Whale Watch Kaikoura
Image by James Heremaia via Tourism New Zealand
3. Dog Sledding
Experience the thrill of traditional arctic dog sledding through the Southern Alps of New Zealand.
You'll never forget this experience - soak in the magical mountain views, fresh brisk air in your lungs, your kart gliding behind your friendly, fit dog team, as they weave you through the snow-clad high country trails. Learn how to take command of your own team of Huskies, then take the reigns along the beautiful trails of a private Snow Farm, or settle into a comfortable kart as an experienced musher (guide) leads your pack. If you have the time, let us book you into the amazing night-time dog sledding experience. All the thrill of dog sledding, under the stars - with just the moon and your headlamp to light the way.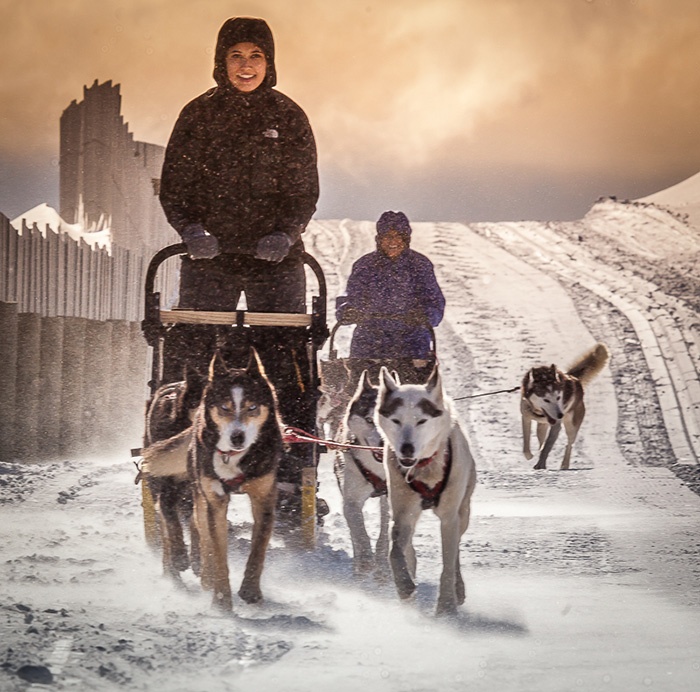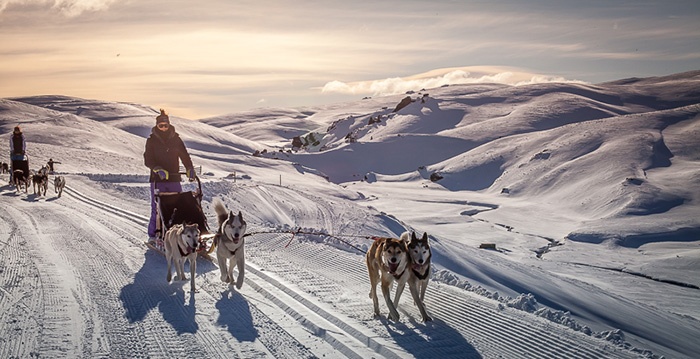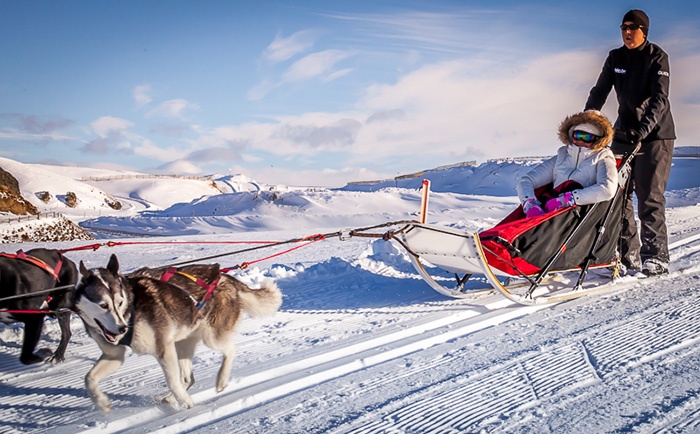 All images via our partners at Underdog

4. Skiing under the Stars
Everyone knows one of the greatest reasons to visit New Zealand in the winter is the world-class skiing (read more about skiing in New Zealand here).
But part of our list of extra reasons to visit New Zealand during winter is the extra-special experience of skiing under the stars.
Coronet Peak comes to life after dark, with skiing and socialising every Wednesday, Friday and Saturday nights from late June to early September. Watch an epic sunset from the mountain tops, blast the fantastic trails, then soak up the awesome apres-ski party atmosphere (roaring fires, live DJs and wicked food) with a mulled wine in hand.
Image via Travel With Hie

Image by Julian Apse via Tourism New Zealand
5. Witness the Southern Lights
The Northern Lights (Aurora Borealis) is a famous bucket list item for many travellers around the world, but the lesser known Southern Lights (Aurora Australis) are no less spectacular, and they can be seen from New Zealand during winter.
Low light pollution makes Dunedin, Wanaka, Lake Tekapo and Aoraki Mount Cook the best places to experience the spectacular Southern Lights, and in June and July the sightings are best as the night sky is at its darkest.
Via OnThreeLegs - Photography © Ben Fewtrell
Image via Living in Another Language
6. Celebrate Maori New Year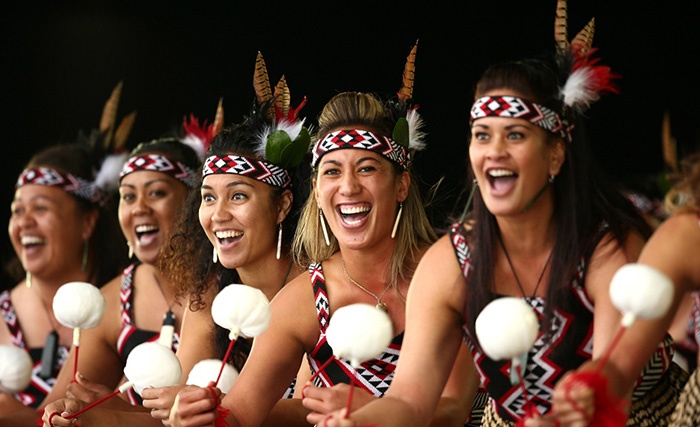 Image via Concrete Playground
Matariki - Māori New Year - is a time of celebration in New Zealand. It begins as the Matariki star cluster rises - from around early June (mid-winter) each year. Formed over 100 million years ago, the star cluster plays a pivotal role in Māori mythology.
While Maori culture is a thriving, alive culture that welcomes you warmly anytime of year in New Zealand, Matariki is an especially fabulous time to experience the pride and mana of the Māori people, as festivals and events are held throughout the country. Feel the spirit of Māoritanga, taste traditional delicacies and contemporary Māori cuisine, get goosebumps from the passion and power of Māori waiata and haka (songs and ceremonial war dances), and fall in love with intricate, ancient art forms such as weaving, carving and ta moko (tattoo).

7. The Mighty All Blacks
New Zealand's national game is rugby, and the New Zealand team - the All Blacks - are the pride of the land. For many New Zealanders, one of the best parts of winter is the fact that the rugby season kicks off, which also means big All Blacks matches to look forward to. If your New Zealand holiday sees you in a major city during the season, don't miss a stadium game. The mighty Haka echoes through the crowd before the whistle below, then a sea of passionate kiwi fans, dressed in top-to-toe black, roar as their heroes battle through to the try line.
Click here to see the 2019 All Blacks game fixtures.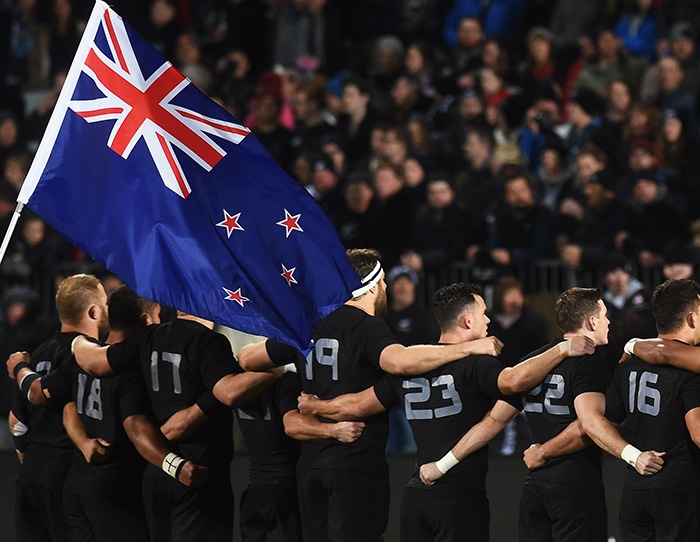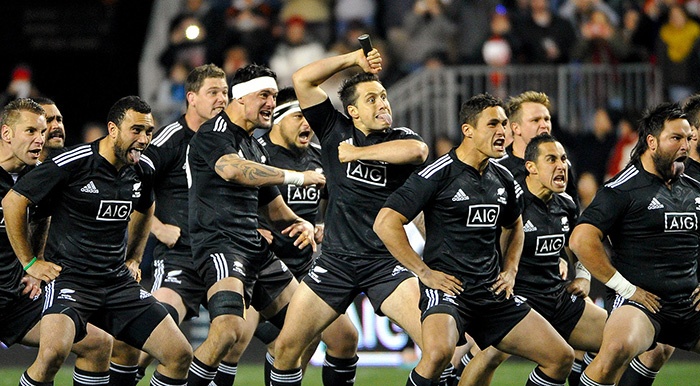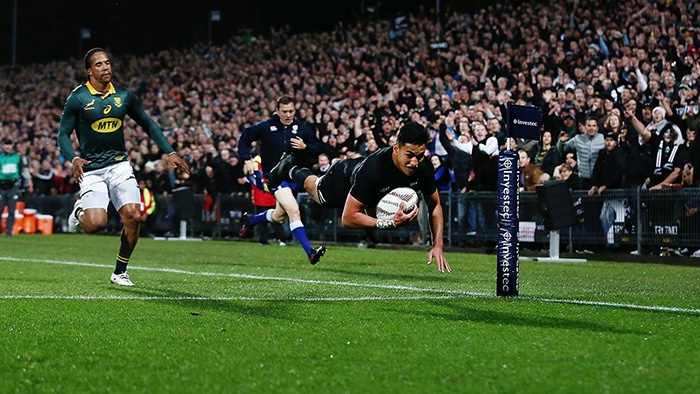 8. New Zealand's Best Food Festival
Recognised the world over for its fine wine and gourmet produce, Hawke's Bay is a foodies dream destination. And there's no better time to visit Hawke's Bay than in winter, when the annual FAWC (Food And Wine Classic) is on. The FAWC is a massive month-long culinary festival that brings together the best this world-class region has to offer, from accomplished chefs, winemakers, foodies and other talented types.
The diverse, delicious festival programme offers over 60 different events planned in some of the region's most stunning locations - to be enjoyed over four glorious weekends.

9. Your Own Mountaintop Chalet
New Zealand boasts a number of first-class private lodges and luxury accommodations, some of which simply must be experienced in winter, when their remoteness and scenic beauty can be fully appreciated. One such is Whare Kea Chalet, located at 1750m above sea level, on the edge of Mount Aspiring National Park. Accessible only by helicopter, this very special property was designed to have minimum environmental impact and its design is a feat of engineering and vision.
In winter, it is blanketed in snow, but inside the chalet, it is luxurious and warm, with huge windows all around that frame simply spectacular views. Stay for a night or two - you'll feel as though you've been transported to another world entirely .


10. One of the World's Greatest Train Journeys
Considered one of the finest train journeys in the world, the Tranz Alpine is a must-do in winter. Inside one unforgettable day, you'll traverse New Zealand's South Island, from Christchurch on the East Coast to Greymouth on the West.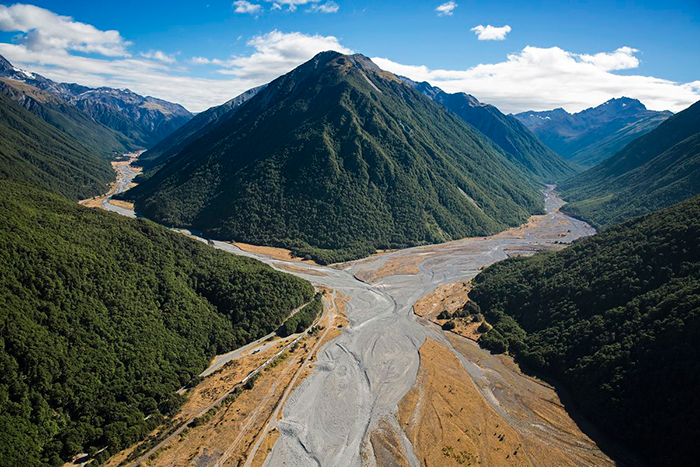 The journey snakes across the lush farmlands of the Canterbury Plains, floats alongside the ice-cold Waimakariri River, and past swathes of vibrant purple lupin blooming in the countryside. You'll pass through ancient viaducts and tunnels which were built during New Zealand's early European settlement, and then climb up, up, up into the the mighty Southern Alps, surrounded by snow-covered peaks and alpine valleys. The final leg sees you descend down the mountains into thick stands of native forest before reaching the Tasman Sea. The view changes just about at every turn - it's nothing less than a visual feast - and even more beautiful in winter months.
Read more about New Zealand train journeys on our Travel Journal, here