For those looking for adventure, a cycling trip is a great way to reconnect with the great outdoors of New Zealand. On road, off road or even a spot of mountain biking, our trails are sure to get the blood pumping. With plenty of places to hire a bike and trails to suit all experience levels. Clip up at that helmet and get peddling around some of our favourite trails.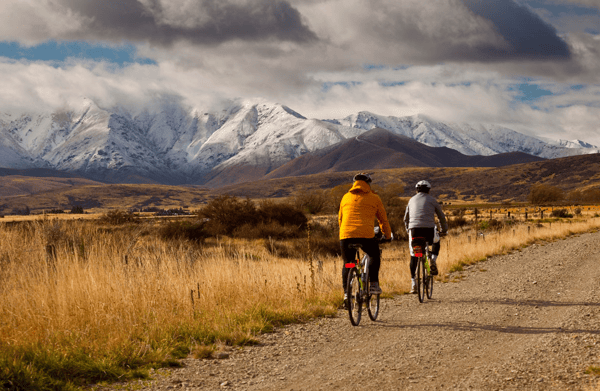 Theres nothing like cycling as the snowcapped mountain ranges tower above. Source: DOC
1) Otago Centre Rail Trail (South Island, New Zealand)
Just as the name suggests, this trail follows the former route of the Otago Central Railway for 150km. A ride for everyone, with compressed gravel paths and a flat cycle path, this is the perfect ride for families and recreational cyclists. With various access points and accommodation options along the trail allow a few days for a true experience. With incredible iconic New Zealand scenery, not accessible by any other means then bike, you will see why it is a much-loved cycle trail. Don't forget to take your camera and stop and check out the historic dams and goldmines.
Mountain Biking options for the kids, parents they will soon have you struggling to keep up. Source: RIDE NZ
2) The Redwoods Rotorua (North Island, New Zealand)
If the adrenaline of downhill is more your thing, the Redwoods in Rotorua is home to some of New Zealand's oldest mountain biking trails. Whether you're an expert keen to get stuck in or have children learning the art of downhill there are trail options for all levels. With towering redwood trees and native bush, you will not only get a great dose of adrenalin but a nice big breath of fresh native bush air. And for those who don't enjoy the ride to the top of the trail, there are shuttles available to transport you to the top.
Whatever the season, be prepared for an exciting day ride. Source: The Grid
3) The Roxburgh Gorge Trail (South Island, New Zealand)
A day cycle that is different every month of the year. As the landscape changes dramatically with the changing New Zealand seasons the Roxburgh Gore Trail is a top pick cycle trail. Taking you from Alexandra to Lake Roxburgh Dam, you will pass the historical gold mines the draw card attraction on this trail. With the option to enjoy a scenic boat trip along part of the trail, catch your breath, enjoy a spot of lunch and learn more about the trail's history. With the ability to connect with the Otago Central Rail Trail at Alexandra and the Clutha Gold Trail. The worlds your oyster with plenty of non-stop cycling to experience.
Fancy a challenge, the Old Ghost Road will offer you that. Source: The Old Ghost Road
4) The Old Ghost Road (South Island, New Zealand)
A relatively new cycling trail but one of New Zealand's oldest and forgotten gold mining roads. The trail will have you passing by four "ghost towns". With no ghosts as such to be found, the ghost towns are old mining villages worth checking out. Full of history and stories to be heard don't forget to keep peddling to the other three villages.
This 85km trail is for the more experienced and will have you traversing open tussock peaks, sheer-sided valleys cloaked in forest and strewn with earthquake debris. Take in the alpine Ridgeline, rushing rivers and waterfall and get ready for a wild ride!
Enjoy a few days following the railway lines on the popular Hauraki Rail Trail. Credit: The Old Ghost Road.
5) The Hauraki Rail Trail (North Island, New Zealand)
In just two hours from the big smoke of Auckland city awaits a small town called Thames, often a stop off location en route to the Coromandel. It is from Thames you can access the incredible and often underrated Hauraki Rail Trail. A trail suitable for all fitness levels it is well worth spending a few days exploring the vast area here. From the Shorebird Coast, through lush green Waikato farmlands and Karangahake Gorge, you'll soon learn why it is labeled one of New Zealand's "14 wonders"
Get in touch with us today to learn more about personalised travel, and what can be designed just for you and your family.