The beautiful Bay of Islands beckons with a warm climate and over 40 sub-tropical islands to explore. But beyond the beaches, there's also plenty here to engage and entertain the family. Here are a few of our top picks...
The Birth of a Nation
The Bay of Islands is home to the historic Waitangi Treaty Grounds, the place where, in 1840, the Māori Chiefs of Aotearoa signed an accord with the British Crown. The Treaty of Waitangi - Te Tiriti o Waitangi - is New Zealand's founding document and the Waitangi Treaty Grounds is regarded as New Zealand's most important historic site. It is also an award-winning visitor attraction and an absolute New Zealand 'must-do'.
Set aside the better part of a day to discover everything the Treaty Grounds has to offer. Explore the fabulous contemporary Museum of Waitangi (where history really comes alive through state-of-the-art exhibitions and interactive spaces), see the absolutely magnificent carved meeting house Te Whare Rūnanga, and walk through the historic Treaty House to learn about life in New Zealand in the early 1800's.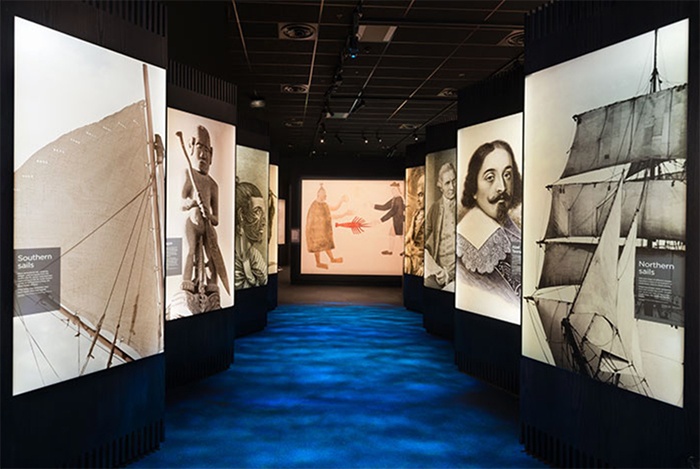 One of the fabulous multimedia exhibits at the new Museum of Waitangi
Be audience to powerful Māori cultural performances, and see the world's largest ceremonial war canoe. There's also a excellent art gallery and carving studio, and a great on-site cafe. The Treaty Grounds also boast beautiful panoramic views across the Bay of Islands.
Photography by Sara Orme via Tourism New Zealand


If you're visiting in summer months, we recommend the twilight cultural experience on offer. As the sun sets over the Bay of Islands, you'll be welcomed formally onto the grounds by a Māori warrior. Making your way into the iconic meeting house, you'll experience a truly stirring cultural performance by Te Pitowhenua Performing Arts Group. After the show, you'll also see your beautiful evening meal - steamed to perfection - being pulled from the traditional Māori earth oven. Enjoy delicious meats, stuffing, vegetables, breads, salads and steamed pudding - a Kiwi classic - for dessert.
Island Hopping
Charter a private day cruise to explore some of the 40 islands that make up the Bay of Islands. Our favourite vessel to book our clients on is Cool Change, an elegant 54-foot sailing catamaran with fabulous visibility and loads of comfortable space to relax both inside and out.
Explore this dramatic coastline and its golden-sand beaches, completely secluded coves and tranquil harbours. The kids (and big kids) will love paddle-boarding, snorkelling and swimming in the azure water, and you'll also go ashore on one of the islands for a generous Kiwi BBQ lunch on the beach. Keep an eye out for dolphins!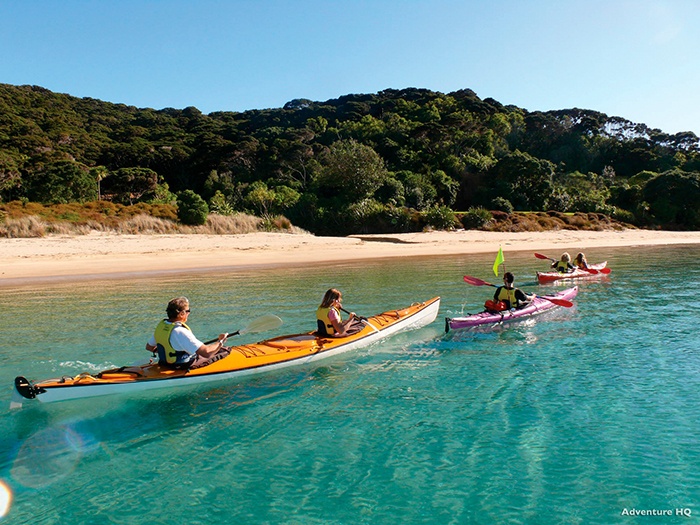 Kayaking around one of the islands of the Bay of Islands. Image by Adventure HQ, via Tourism New Zealand
Top of the North Tour
A road trip (or as we Kiwis say, 'roadie') to the top of the North Island - Cape Reinga - is a must-do on a family holiday in Northland. A number of tour companies offer this as a day trip, because the 3-hour journey to the Cape also takes in a number of other very special New Zealand landmarks and experiences. Let us book you with one of our boutique tour operator partners, travelling in a late-model 4WD that'll get you comfortably off the beaten track, with a small group only - or just with your family and your guide on a private tour.
The journey to/from Cape Reinga will be by way of 90 Mile Beach, one of the longest uninterrupted stretches of coastline in New Zealand. You'll actually drive right along the beach (90 Mile Beach is officially a state highway!), stopping to experience Blokart riding on the flat sand, and body-boarding/tobogganing down the huge Te Paki sand dunes - wicked fun for kids and big kids! You can also dig for tuatua in the sand at low tide, and your guide will cook up your fresh seafood snack right on the beach for you!
Sand-surfing the giant Te Paki Dunes
Arriving at Cape Reinga, you immediately feel that this is an incredibly special and sacred place. In Māori culture, it is believed that when someone dies, their spirit makes a journey to this spot, leaping off the old gnarled pohutukawa tree at the very point of the land into the ocean, to begin their return to their ancestral homeland of Hawaiiki. See this 800-year-old tree, and the spectacular swirl of currents where the Tasman Sea meets the Pacific Ocean, and walk to the iconic Cape Reinga lighthouse.
Image via Fullers Great Sights
Your one-day roadie may also include: visiting early archaeological sites of New Zealand, seeing the wild horses of Aupouri Forest, having the opportunity to swim in both the Tasman Sea and the Pacific Ocean on the same day, and seeing ancient swamp Kauri - as ancient as 50,000 years old!
Explore Russell
Russell, a waterfront township in the Bay of Islands, is one of the earliest European settlements in New Zealand. It was developed in the early 1840's as a shore station for shipping, and soon became a rowdy, lawless whaling port, favoured by drunken sailors, runaway convicts and grog sellers! Two hundred years on, excellent eateries and boutique stores and galleries line the calm, sheltered bay.
Being isolated on a narrow peninsula, it has the ambience of an island - get here via a 15-minute ferry ride from Paihia, and spend time strolling the quaint streets, soaking in the rich heritage, and enjoying some quality shopping and dining. The Duke of Marlborough, right on the waterfront, has a great kids menu.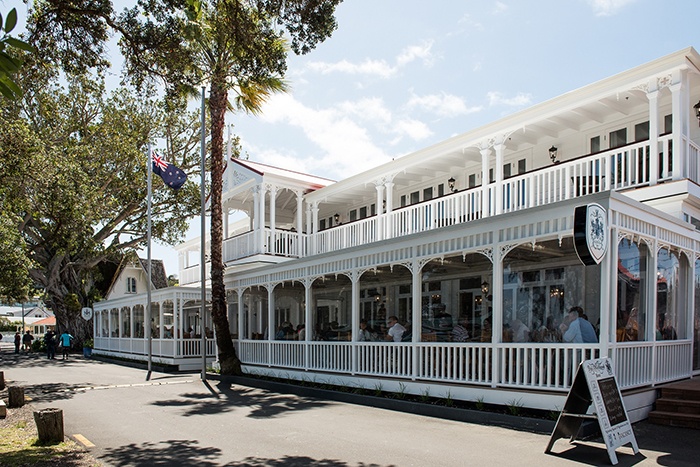 The Duke of Marlborough Hotel, New Zealand's first licensed hotel, now a fabulous all-day restaurant right on the waterfront
Some of New Zealand's oldest and most significant historic buildings are also found here in Russell. There's the Pompallier Mission, for example - New Zealand's oldest surviving Roman Catholic building and still-working printery, and New Zealand's oldest church, the Anglican Christ Church, whose walls still bear the bullet holes from The Musket Wars. Both of these historic sites are open to visit and well worth your time. Also worth a visit is the Russell Museum, which has some great multimedia exhibits telling the town's history, and an impressive 1:5 scale model of Captain Cook's ship, The Endeavour.
Make sure to bring your swimwear - there are so many lovely spots around Russell to have a dip. Our favourite is Long Beach, a gorgeous sheltered bay with safe swimming for all the family.
Looking into a family holiday to New Zealand? Let us create an unforgettable itinerary for your family - perfectly tailored to your travel style, and to your children's ages and interests. Contact our team of New Zealand specialists today!