As we head into a new year, we're reflecting on the New Zealand travel destinations and holiday experiences our guests loved most this year. Read on for five of their faves...
Redwoods NightLights
The Redwoods Treewalk, in Rotorua's Redwood Forest, consists of 28 individual suspension bridges traversing the gaps between 27 majestic, giant Redwood trees. Over the easy 700-metre walk, you climb to a height of 12 metres, until you're right in the canopy of these 117-year old trees. Already a fabulous, well-loved attraction, the Redwoods Treewalk goes one step better when the sun goes down, with the Redwoods Nightlights experience.

This night-time experience invites you to explore the mighty forest under the shroud of darkness; illuminated by 30 big, beautiful lanterns hanging from the trees. The eco-conscious lanterns, each up to 2.5 metres tall, were created by award-winning, internationally-celebrated New Zealand designer David Trubridge. The huge lights were carefully installed by hand, without the use of heavy machinery that would negatively impact the environment.
Boys' Day Out
Dean, founding Director of Antipodean Luxury Travel, takes charge of the planning of our awesome Boy's Trips. Whether your mates are into fishing, hunting, or both, let us tailor-make an unforgettable Big Day Out (or couple of days away) of top-class hosting, quality New Zealand beer and fab food, and some of the best deep sea and sport fishing, fly fishing, or high-country hunting in the world.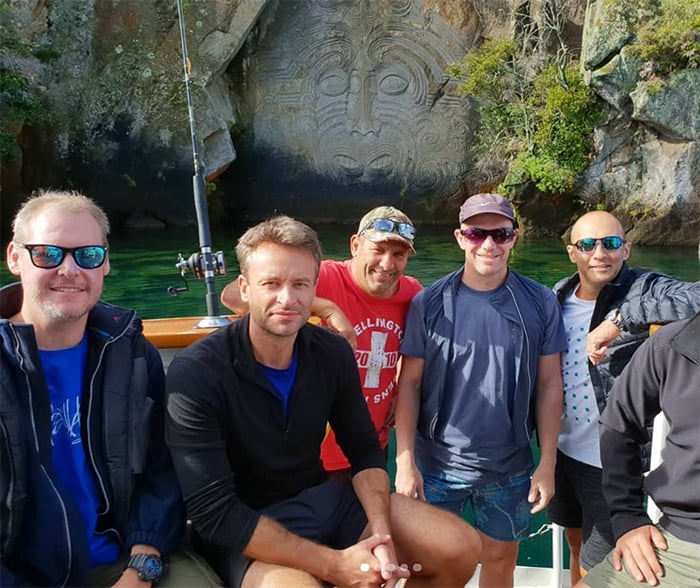 Antipodean Luxury Travel Co-Founder Dean Nikora (in red) hosting a recent Boy's Trip - fishing on Lake Taupo
Image via Blanket Bay Lodge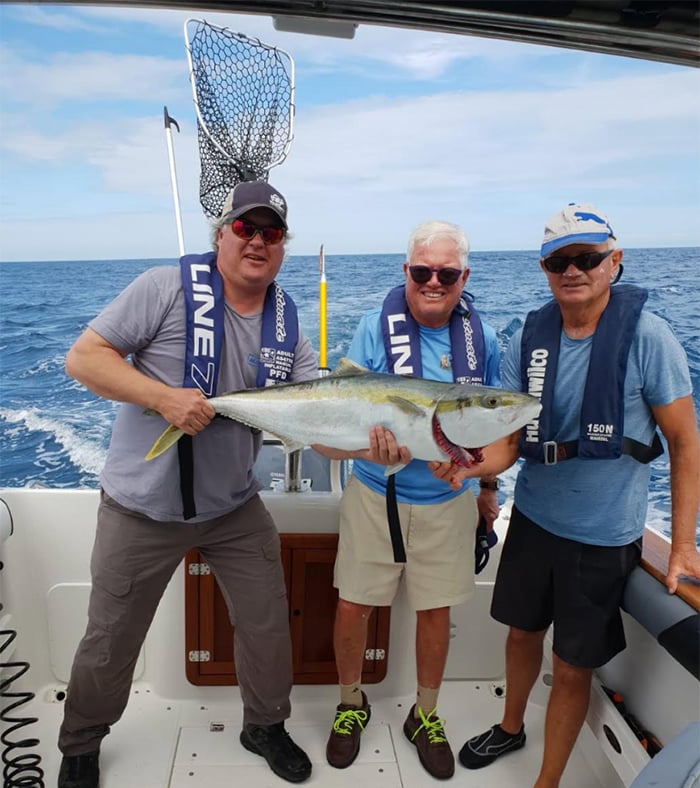 These Antipodean guests are a Father & Son who are having a blast Fishing & Golfing their way around the North Island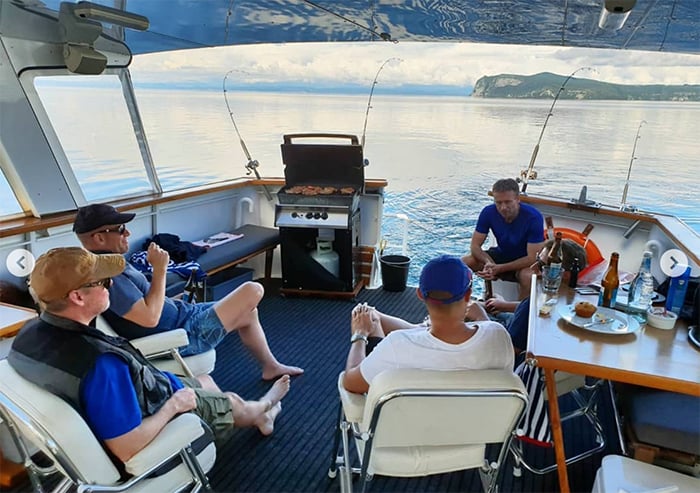 Boys, BBQs, Beers
You'll be taken to the very best wilderness 'secret spots' where you'll get to use the very best kit, with the very best sports guides. Along with fishing and hunting adventures, there are loads of other fun options for your Boys Trip - like golfing on a rugged mountain top, mountain biking in pristine forests, racing luxury vehicles, or a private tasting tour of a craft brewery.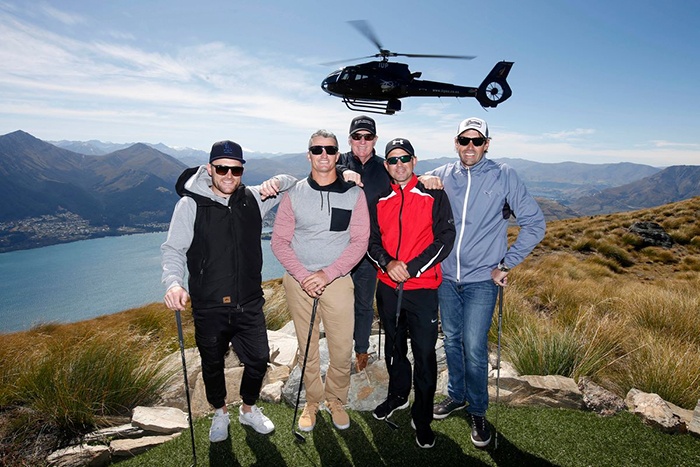 A quick round at the top of the world
Flying High with Heroes
The very best way to see the stunning beauty of New Zealand is from the air - and even better, on board a private helicopter, piloted by none other than New Zealand legendary rugby player Richie McCaw! Richie began his fixed wing and helicopter training pilot back in 2003, whilst he was still in the All Blacks, and now that he's retired from the captainship, he is the Director of Christchurch Helicopters.
Our lovely clients Gwendolyn and Sidney with Richie McCaw
Scenic flights with the famous Number 8 include tours of North Canterbury's wine country, flights over the Southern Alps, and even a trip to the Kaikoura coastline where a dolphin and whale encounter awaits. Our guests have given glowing reviews of their time with Pilot Richie this year!
Family Time on the Farm
We had loads of lovely family groups travelling with us this year, and something that's always a hit with children is an authentic New Zealand farm experience. One of the best is that offered by Cape Kidnappers, one of the world's best 5-star Luxury Lodges, but also a high country working sheep and cattle farm. In fact, the 6,000-acre property is one of the most staggering private farms in all of New Zealand.
Largely inaccessible to regular vehicles, Cape Kidnappers is best explored by Can-Am. Discover this rugged terrain with a personal guide as you travel to the very edges of the vast coastal property. Breathe in the southward views towards Ocean Beach and Bare Island before turning back to unrivalled vistas across the entire farm towards Napier and the surrounding ranges; venture through an old creek bed, across expansive farmland and down to historic Rangaika Beach. Depending on the time of year, there are opportunities to feed baby farm animals, and visit the world's largest mainland gannet colony
One of our littlest guests this year, feeding a New Zealand lamb
Ice Caving
Experience Ice Caving while you still can! This is one of our guests' most raved-about experiences this year. The private guide we use is Charlie Hobbs, a local legend who holds the highest possible international certification for mountain and ski guiding. He'll take you where the ever-changing caves and formations have sprung up, rather than just hiking a set tourist path that may happen to take in ice caves.
With crampons on foot and professional equipment at hand, you'll explore the mighty Fox Glacier and her many amazing formations - from massive caverns and tunnels, to arches, and even a waterfall born from a melting river of the hidden Victoria Glacier.
One of our guest family groups on a great ice caving adventure
A pic shared by Ben - one of our 2018 guests - during his exploration of Fox Glacier
Image via Instagram travel inspiration, @barekiwi