Discover one of New Zealand's very finest retreats -
the iconic and multi award winning Huka Lodge.
Irishman Alan Pye and his wife founded Huka Lodge in the early 1920's. They knew they'd discovered somewhere very special on earth, and wanted to share it with guests from around the world...
For almost 100 years, Huka Lodge has upheld a tradition of superb hospitality, earning its reputation as one of the world's best luxury lodges. Huka Lodge regularly hosts Heads of State, movie stars and celebs, and the members of European royal families.
So what makes Huka Lodge so special? Why do discerning travellers love this exclusive retreat so much? There's more than one answer…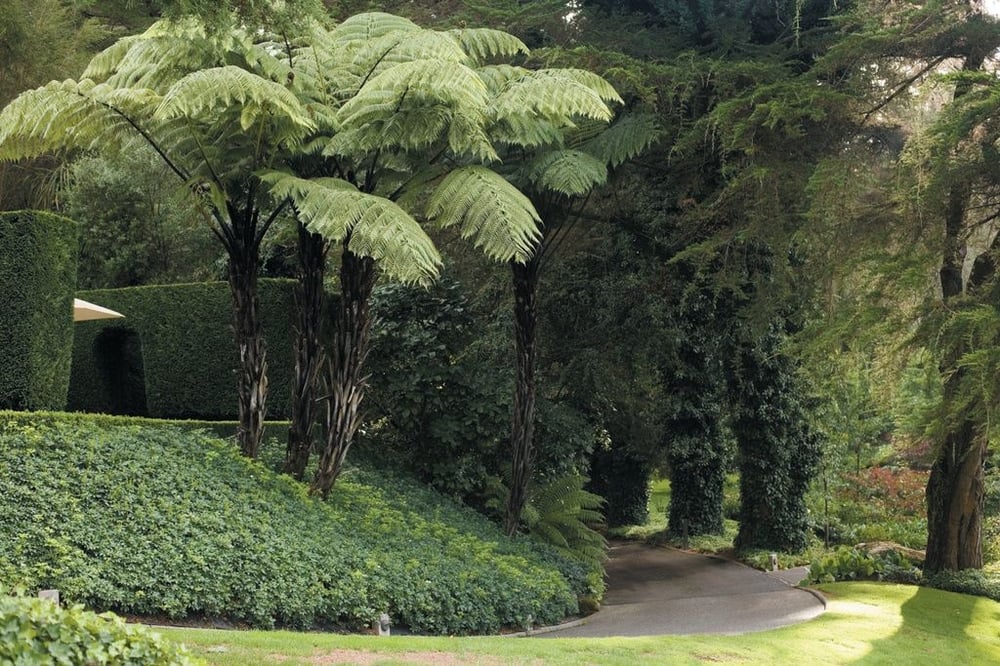 To get a glimpse at the phenomenal beauty of this area, watch the 30-second video below...
By The Mighty River
Firstly, the location. Huka Lodge is nestled on the banks of the Waikato River. From virtually every vantage point, you'll get breathtaking views of the hypnotic turquoise green waters, as they surge past the lodge and downstream toward New Zealand's most famous natural attraction – the mighty Huka Falls.
Huka Lodge also sits amidst 17 acres of manicured grounds, and gardens that are listed as of National Significance. There's a stillness and freshness in the air here that instantly relaxes you and dissolves stress.
Luxury Accommodation
There are only 25 rooms in total, each enjoying beautiful riverside views.
The suites are all odes to elegant living and quality design, with very generous bedrooms, deep baths, premium textiles and luxury complimentary toiletries.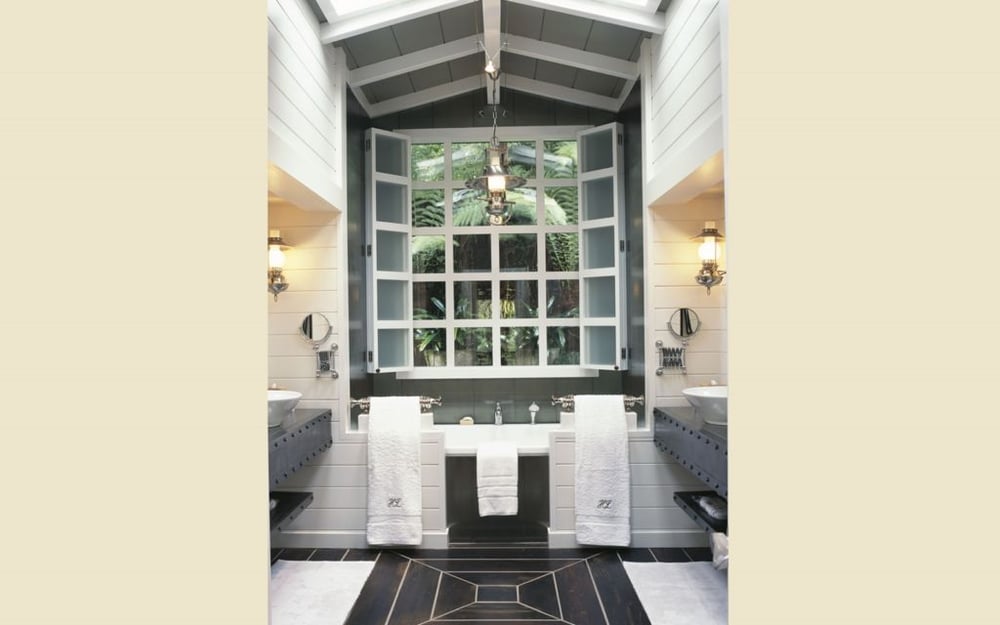 Many of the suites have their own open fireplaces, and beautiful river views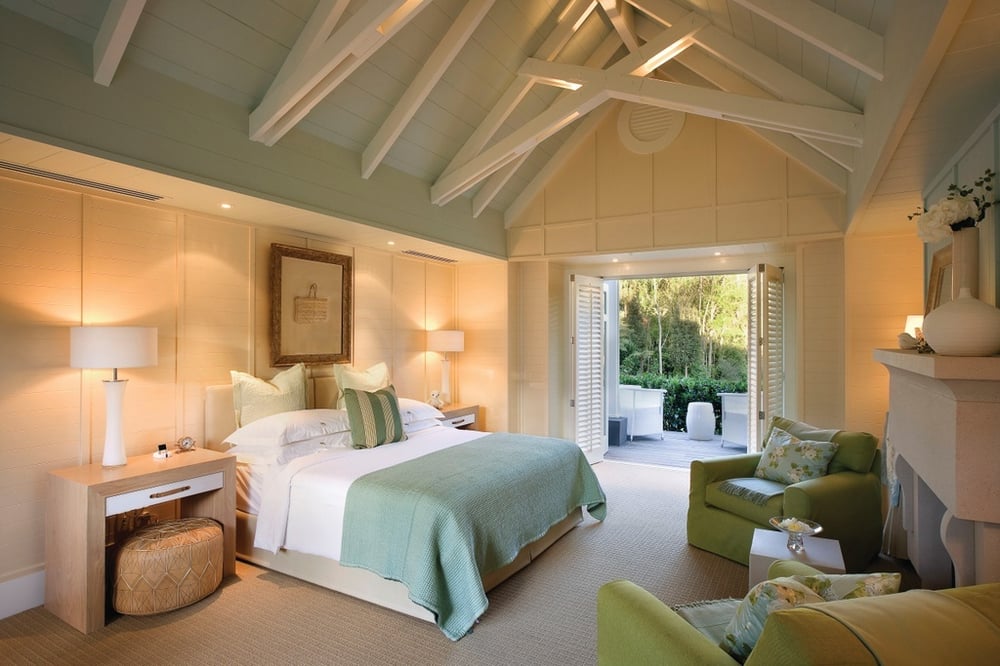 The Owner's Cottage
The ultimate in Huka Lodge hospitality is the Owner's Cottage. Perched high on a sunny spot overlooking the river, this cottage is almost completely hidden from view.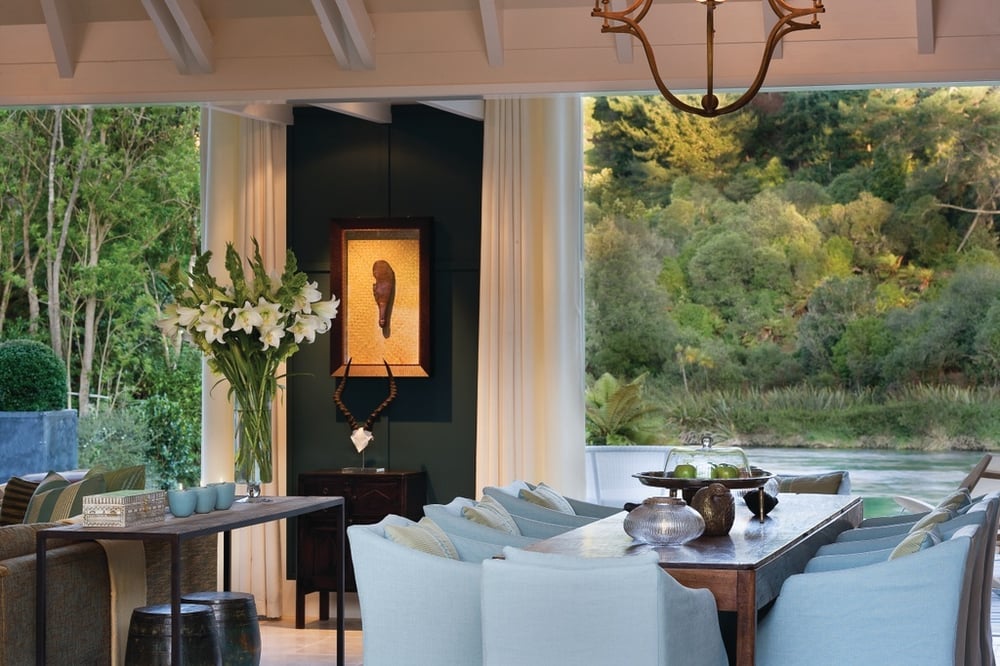 The bleached oak parquet floors, cathedral-style ceilings and pared-back, warm colour palette all evoke a gorgeous calm, restful atmosphere, while works from New Zealand's foremost artists adorn the walls.
Completely self-contained, the Owner's Cottage features four very sumptuous guest rooms, each one with its own fireplace, generous en-suite and large walk-through dressing room. The four suites all positioned around a beautiful big living room, dining area well-appointment kitchen, and den. Each and every room has a fireplace, and there is even an outdoor fireplace in the cottage's lush private garden courtyard.
A large outdoor deck extends from the living room in a continuous line, until it meets the amazing cantilevered infinity pool, the blue of the water melding with the blue of the Waikato River below. The Owner's Cottage also features a private heated spa pool.
Perfect for a family or a group of friends, both the Owner's Cottage and the Alan Pye Cottage include a butler service, and an optional personal chef.
Children are very welcome and the lodge can also arrange babysitters during your stay.
World-Class Cuisine
The Huka Lodge experience includes some of the most impressive fine dining New Zealand has to offer.
Each and every day, Executive Chef Paul Froggatt presents an entirely new menu, with a focus on showcasing the very best seasonal New Zealand ingredients – farm to table.
By supporting specialist producers, Huka Lodge helps to make sure that local artisans can continue to provide premium goods for guests. One example of this symbiotic relationship is Te Mata Figs, who supply Huka Lodge with over 23 varieties of figs!
The Huka Lodge property is also home to a vitally important Queen Bee breeding programme, playing its part in the preservation of bee populations. One delicious outcome of this conservation effort is an abundance of premium New Zealand honey, which guests can enjoy!
Each morning, wake to the sound of birdsong and the rush of the river, and enjoy a full country breakfast – served to you perhaps in bed, or in your own private courtyard garden.
As day turns to dusk, meet up with your fellow guests in the main lodge building, and enjoy pre-dinner drinks and to die for canapés.
You'll then make your way into the main dining hall to enjoy a five-course meal. After dinner, petits-fours and cheeses are served.
If you prefer, there are more than 20 secluded, deliberately romantic dining venues dotted around the property, indoors and outdoors – including the opportunity to dine before a massive open fire, under the stars.
We've heard the service here described as virtuoso – and we love that description. Every member of staff is a culinary professional in their own right, knowledgeable about the provenance of your food, and skilled in the art of wine matching.
Holiday Activities
Huka Lodge and its surrounding 'natural playground' has so much on offer, no matter what your vacation style.
Ask our team to put together an itinerary for an unforgettable few days, staying at Huka Lodge and exploring New Zealand's central North Island.
We can have a helicopter pick you up from the lodge, and take you on a scenic flight over the volcanic mountains of the area (filming locations for the Lord of the Rings movie trilogy!). On the way, you'll cross Lake Taupo, a freshwater lake that's the size of Singapore! Lake Taupo itself is only 10 minutes by car from Huka Lodge, and provides great opportunity for aquatic adventure – sailing, swimming, paragliding, water skiing and kayaking.
Taupo is world renowned for trout fishing. Let a wilderness guide take you to one of the teeming tributaries, or just stay 'home' - you can literally stand on the lawn at Huka Lodge and cast a line for trophy sized rainbow and brown trout. (Trout fishing at the lodge is on a catch and release basis).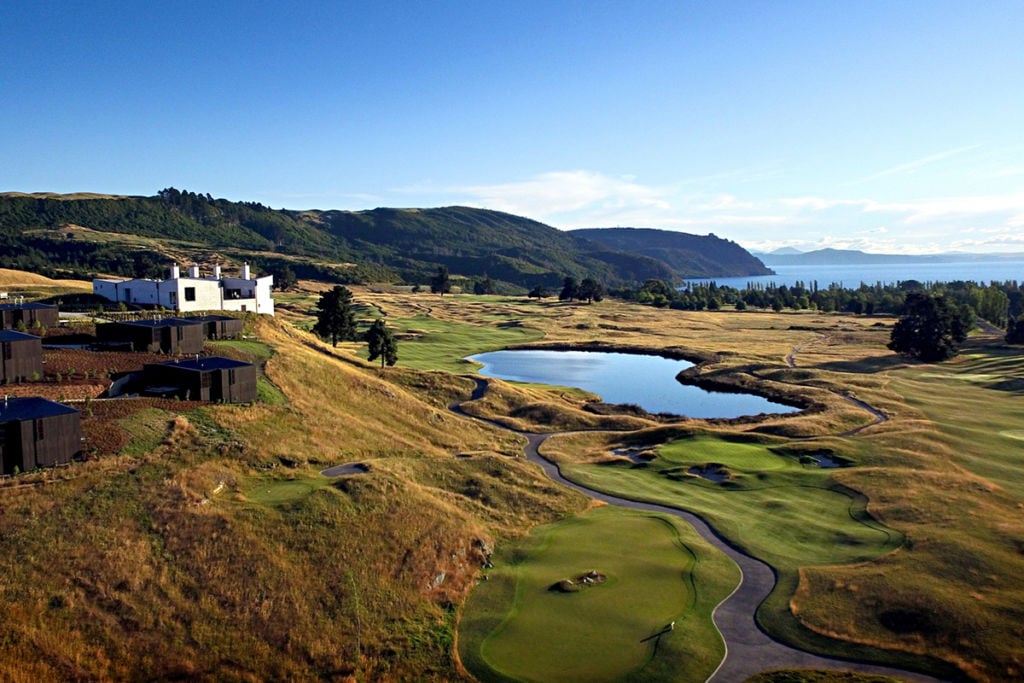 Fellow lovers of golf, you'll be delighted to hear that there are plenty of choices whilst staying at Huka Lodge. The Wairakei International Golf Course is only 5 minutes from the lodge, and there is also a Jack Nicklaus Signature Golf Course nearby, too.
There's so much more to see and do, too, including high country hunting excursions or horse-back rides, boiling mud pools and thermal hot springs to soak in, skiing down the slopes of an active volcano, white water rafting, bungy jumping and other adrenaline-pumping adventures, vineyard visits, gourmet food tours, and so much more.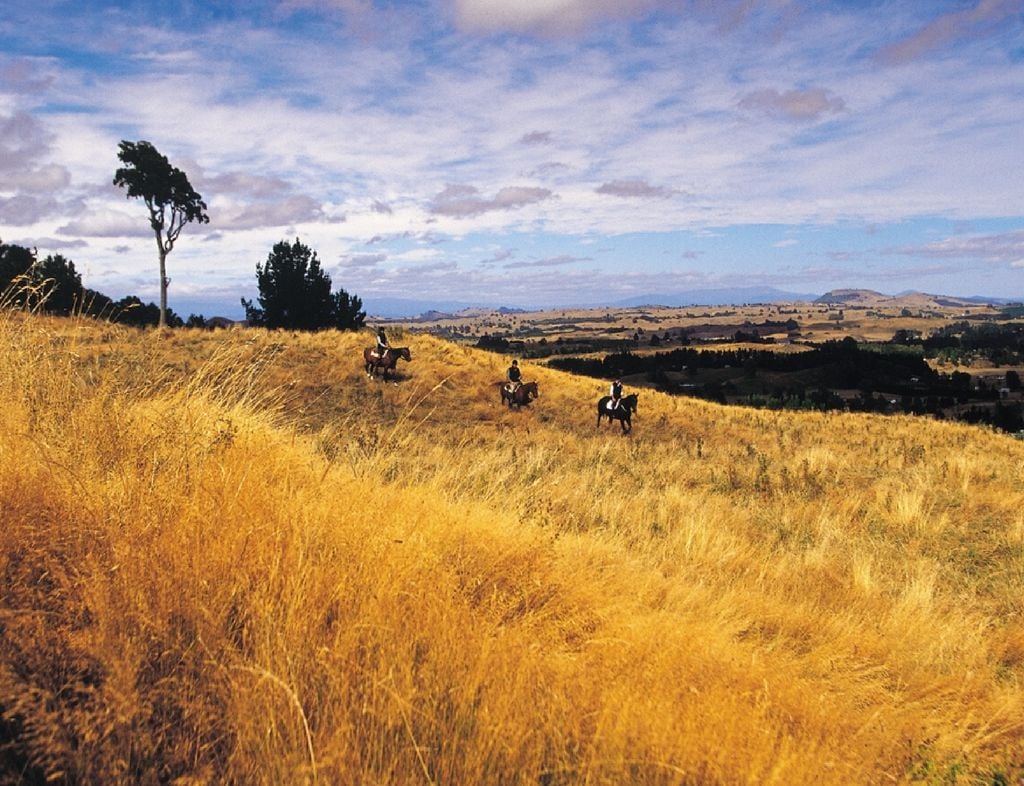 And if chill-time is more your thing, Huka Lodge offers sublime massages and facials, along with deluxe beauty treatments in the privacy of your room.
Contact our team to discuss the luxury holiday of a lifetime at Huka Lodge - one of the finest hospitality experiences New Zealand - and indeed the world - has to offer.