Our team curates not just the finest quality accommodations for you, but also those that make you feel truly at home. One of the warmest welcomes comes from Wharekauhau Country Estate, a stately manor set in rolling New Zealand countryside. Let's see what makes this home away from home so special...
A Proud History
Wharekauhau was established back in 1840 as a (then very remote) sheep station, and is still a sheep station today - though surely the grandest sheep station in New Zealand! The buildings are nestled in 2,226 acres of stunning private land, which includes ancient native forests, wide open spaces where sheep and cattle roam, a picturesque orchard growing pears, plums, crab apples and berries, and sprawling herb and vegetable gardens.
The lodge itself, the original home of the farming families that worked this land, is a stately Edwardian dame, set high on a hill, overlooking the thunderous surf and sparkling sea of Palliser Bay.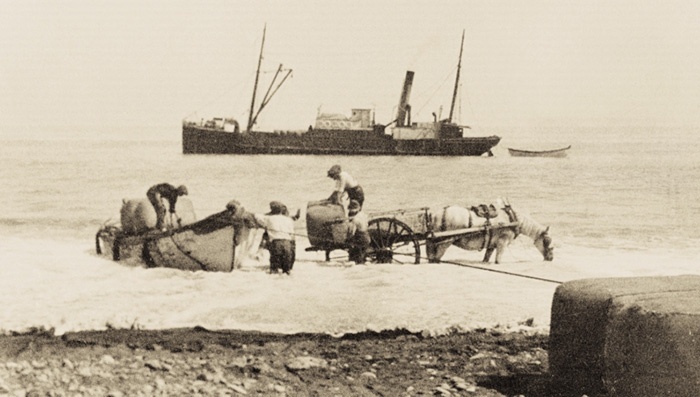 Wool bails being 'exported' in the early 1900's
Still a working sheep and cattle farm today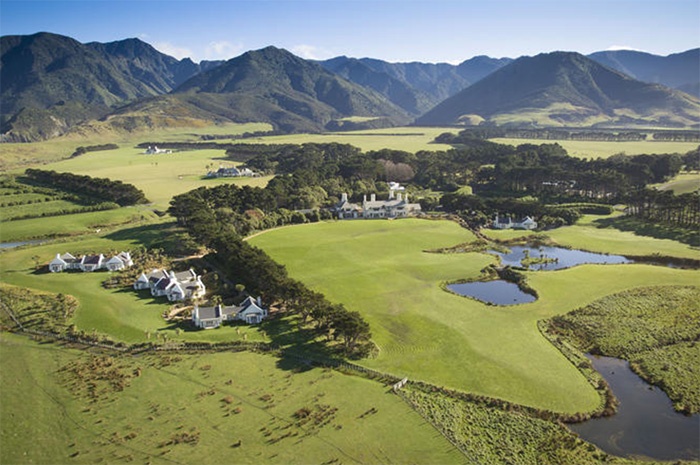 The lodge, guest cottages and private guest residences on the estate today
Walking through the doors, you'll feel as though you've walked back in time. Though the lodge is spacious (with 16 guest suites), there is a warm and intimate feel here, complemented by beautiful antique furniture and oversized open fireplaces.
The elegant formal dining room conjures up images of grand dinner parties held here more than one hundred years ago, while the huge open country kitchen (with home-style table) invites you in to chat with the Chefs and discuss your own dinner plans for the evening. There is much to explore around Wairarapa (most notably, the vineyards that have begun to make a name for this region on the world stage), but you'll be just as happy at your new home base - reading a book fireside in one of the lounges or salons, having a long brunch in the sunny conservatory, strolling through the magical private courtyard and immaculate gardens.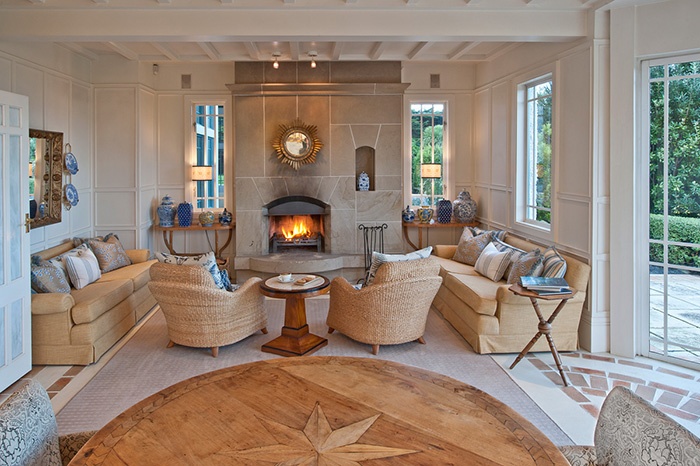 One of the lodge lounges
Home Away from Home
Along with superb hospitality that will have you feeling like an extended member of the Wharekauhau family, your cottage suite offers you every comfort of home. Deep sofas, a double spa bath, open gas fireplace, heated marbled floors, and homemade cookies are just some of the little touches that await you here. The interiors have been designed to add to the homely, cosy feel - with an emphasis on texture and natural materials (such as rich New Zealand wool carpets). One other aspect we like to mention to our clients - all the suites at Wharekauhau have the option to interconnect, making this the perfect accommodation choice for families.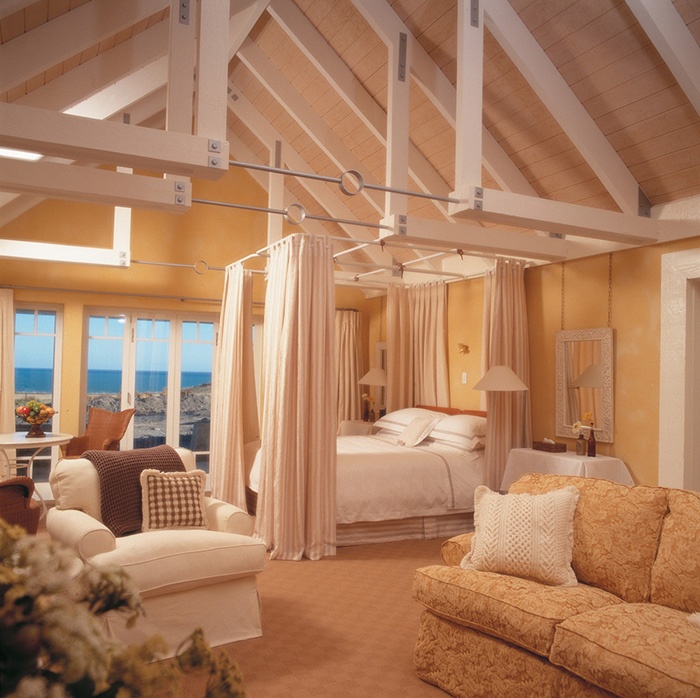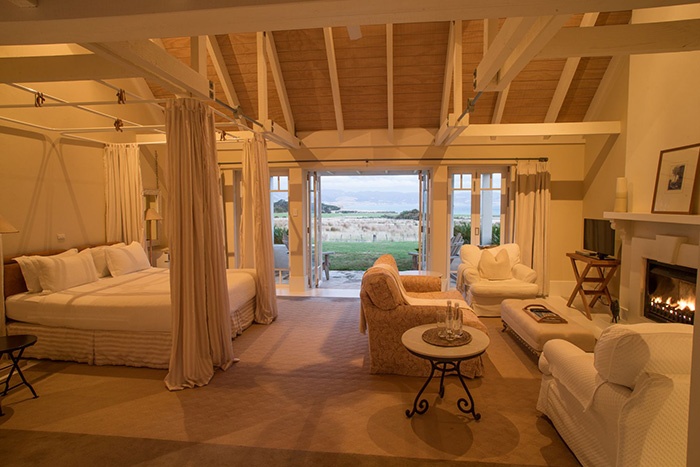 One of just 16 guest cottages with luxe furnishings and an open gas fireplace
Culinary Excellence
As is typical with the luxury private lodge experience in New Zealand, your stay is inclusive of your evening dinner (with appetite's primed by gorgeous pre-dinner drinks - perhaps including a gin made from pure mountain spring water, sourced here at Wharekauhau Estate - and canapes).
Dining at Wharekauhau is truly farm to table, just another aspect of your stay that will have you feeling like an honoured family member in a beautiful home. Eggs are farm fresh, the estate produces its own honey, wild fennel is foraged from along the windswept coast, old-fashioned lemonade is crafted using Meyer lemons from the estate's huge old lemon tree... It's not uncommon to see a chef roaming the grounds collecting various items for his menu.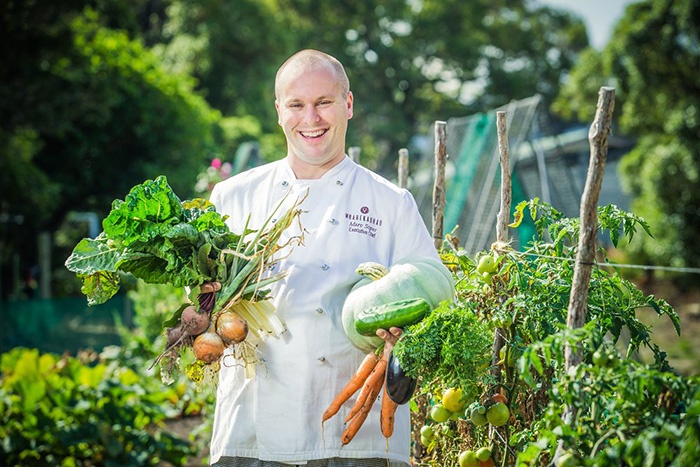 We love the lodge's Trust The Chef daytime lunch experience, a casual 5 course degustation-style tasting menu which is designed anew each day. The inspiration behind the menu is to showcase the bounty harvested from the local region - the chef's own natural 'grocery store'! The famous organic, farm fresh Wharekauhau lamb is likely to make an appearance during one of the courses.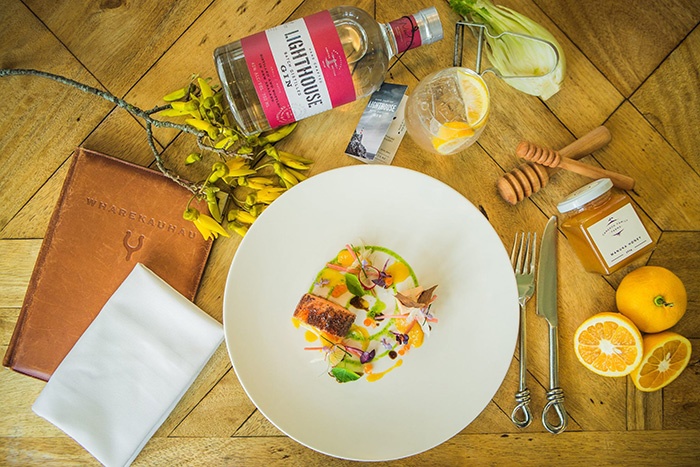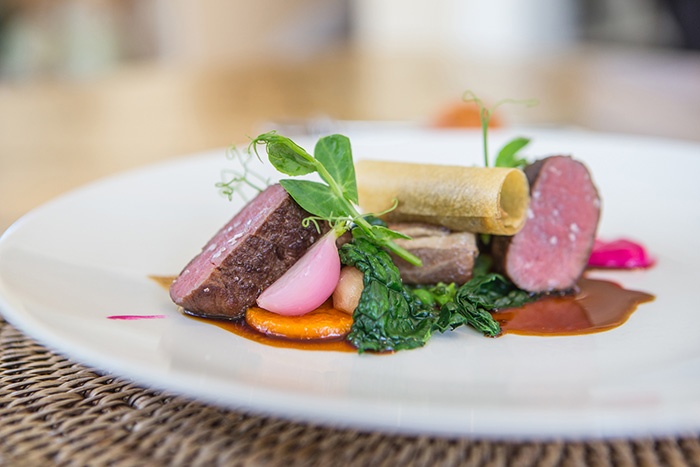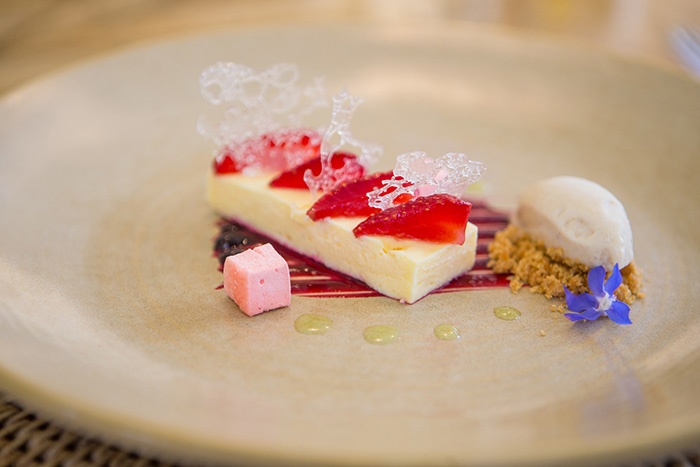 Ultimate Hideaway
Along with the cottage suites, Wharekauhau boasts a very impressive stand-along property, The Owners Cottage. The choice of celebrities and heads of state, this elegant two-level home was designed to take full advantage of its stunning views over the dramatic Palliser Bay (all three bedrooms enjoy the views) framed by a backdrop of the Rimutaka mountains.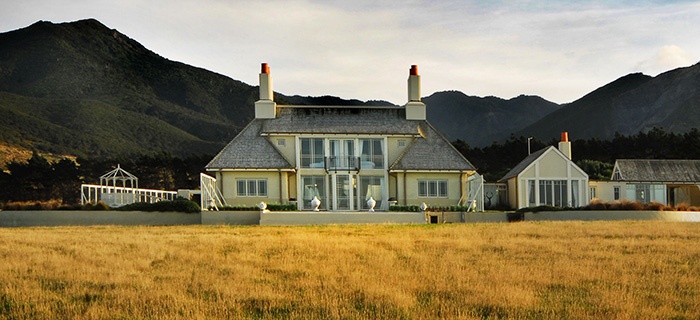 Every luxury and convenience you can think of has been included here, including an integrated house BOSE audio visual system, claw foot baths, a heated infinity pool and outdoor shower, open fireplaces, a gazebo that overlooks the ocean, and the option of having your own personal Chef.

Wharepapa Cottage, four kilometres from the main lodge, offers a second completely-private luxury stay, for those who wish to be self-maintained.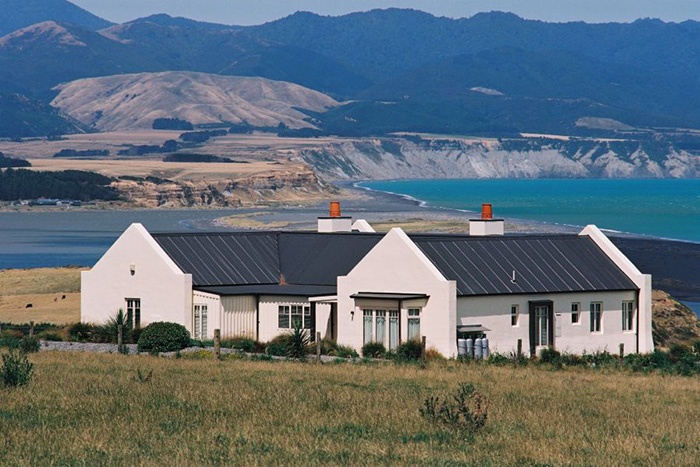 The private Wharepapa Cottage
Out & About
The Wairarapa region is often missed in the glossy travel titles that prefer to focus on well-known New Zealand destinations like Auckland, Queenstown and Wellington. But there is much to fall in love with here.
Firstly, the wine. This little rural region now produces some of the world's best Pinot Noir, and its vineyards are at the heart of the Classic New Zealand Wine Trail. The main wine areas of the region are in Martinborough (there are more than 20 wineries within cycling distance of Martinborough's village square!), Gladstone and Masterton. And if well-crafted beer is more your style, there are also a number of breweries here.
We can arrange a one-day guided tour of the region's best wineries, tasting and exploring at award-winning boutique wineries such as Alana Estate, Martinborough, Te Kairanga Wines and Palliser Estate.
Image via Destination Wairarapa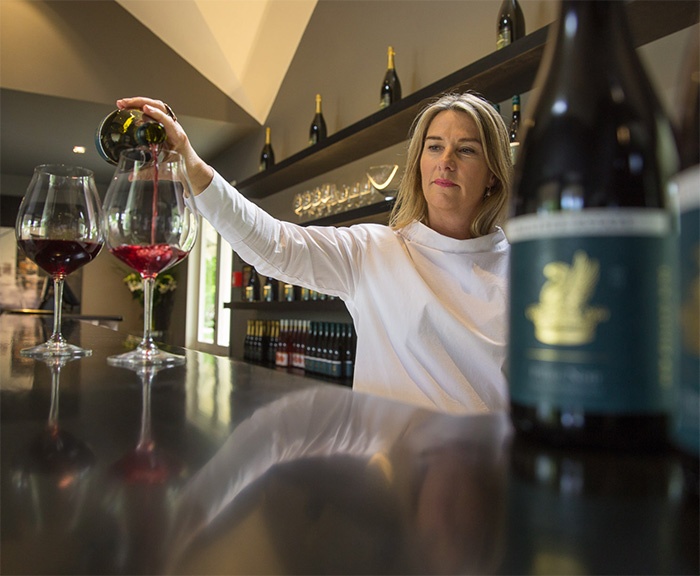 Image via Palliser Estate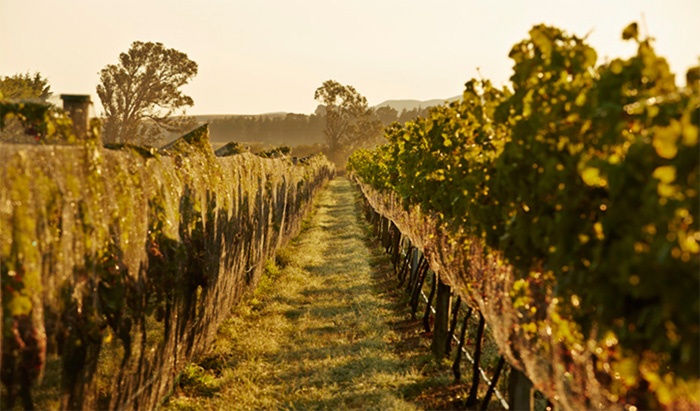 Aside from world-class wineries, here are a few of our fave spots in nearby Martinborough village (a 30-min scenic drive from Wharekauhau):
Union Square - a fab new Bistro & Bar in the Martinborough Hotel - modern, with a French influence
Mesita - very cool little wine bar, serving an array of local and international wine alongside a Mexican-inspired menu.
Red Bicycle - a funky, colourful concept store filled with quality homeware, fashion and gifts
Holy Smoke - men's clothing for the sartorial man (or his style-conscious woman!)
Creative Collective - a super cool gallery, run by a collective of local artists and designers. Browse and buy unique modern art and homeware, or attend one of the creative workshops.
Martinborough Wine Merchants - Great wine and liquor store with an excellent café attached. You'll find the staff super knowledgable in the regional wines.
Keep an eye out for a future Travel Journal story with more on the wonderful Wairarapa region.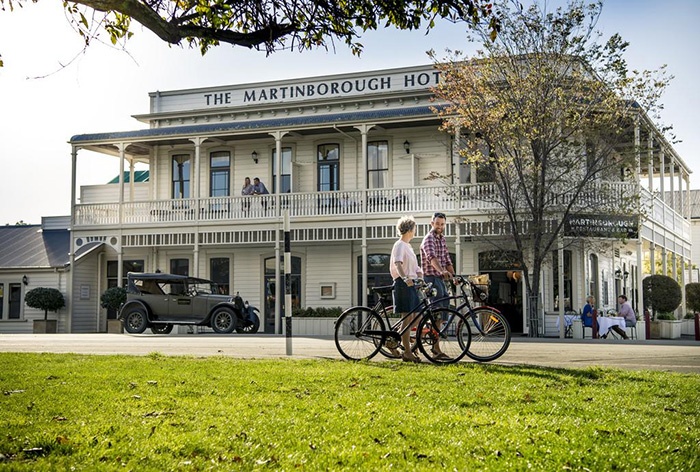 The iconic Martinborough Hotel speaks to the history of this region. Image via Destination Wairarapa.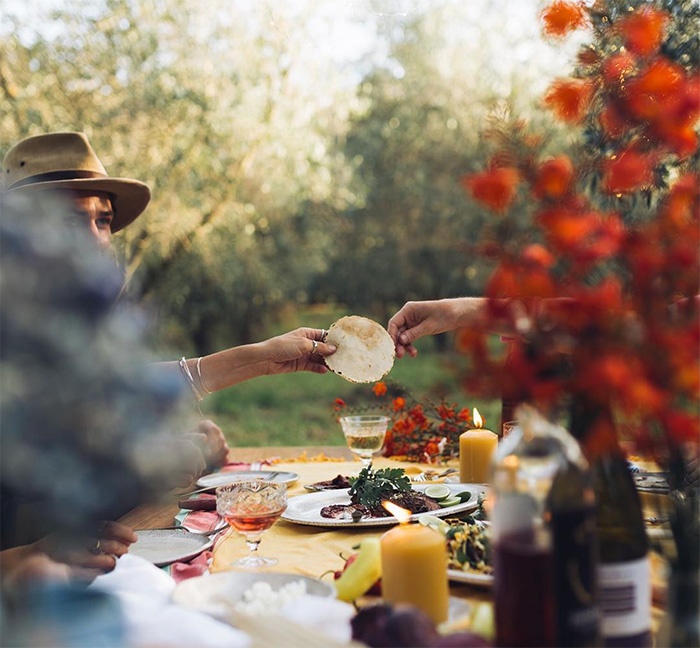 Mesita - wine bar and Mexican fare