Our first post in this series showcased the hip suburb of Ponsonby, and for this second slice of the Auckland pie, we're taking you on a virtual stroll through Auckland city's newest and most exciting precinct, Britomart...
Britomart is a large part of the vibrant reinvention that CBD Auckland has undergone in recent years.
This historic precinct, located right on the waterfront, was originally the site of Auckland's earliest merchant and trading buildings. For decades, Britomart was a neglected corner of the city. Now, its lovingly restored heritage buildings sit alongside superb modern architecture, and its little laneways are home to some of New Zealand's best eateries, design and shopping.
First, the shopping...
Luxury Shopping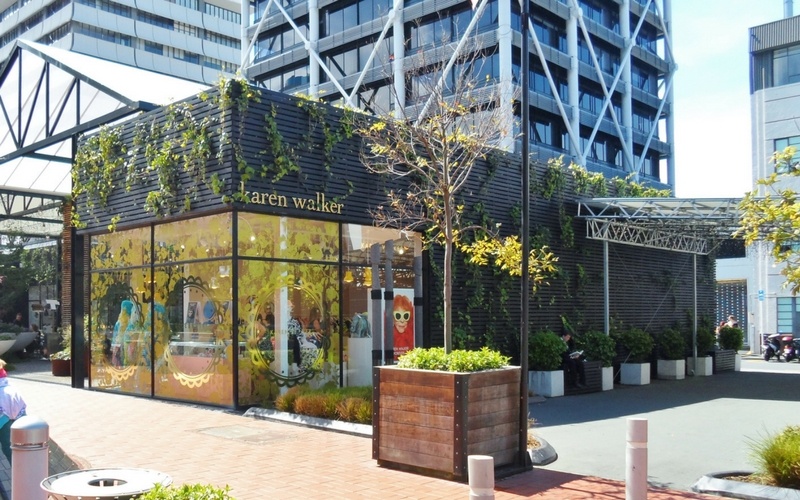 A number of leading international fashion and lifestyle brands have high-end flagship and concept stores here, including Karen Walker, Nike, Adidas, Kikki K (designer stationery), Sass & Bide (gorgeous and very modern Australian fashion label), Lululemon Athletica yoga and lifestyle brand, Jo Malone London and much, more.
M.A.C Cosmetics New Zealand flagship store
Chanel Boutique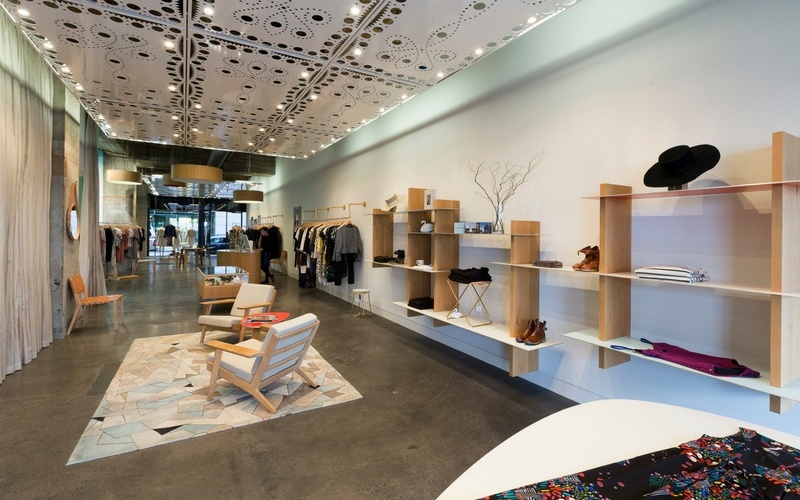 Beauty shoppers will have the time of their life browsing the shelves of international brands Kiehls, M.A.C Cosmetics, Bobbi Brown, L'Occitane and more.
And when you need to re-fuel for the next round of shopping, Britomart offers scores of modern espresso bars and stylish cafes.
Dining by Day
You're spoilt for breakfast, brunch and lunch choices in Britomart, but we'll just share two of our many faves:
Little Bird Unbakery - Image via Britomart
If you're trying to make healthy choices (or at least, like us, to save your indulgences until evening!), you'll love Little Bird Unbakery. Little Bird was perhaps the eatery that first sparked Auckland's wave of superb wholefoods cafes. Everything here is raw, organic, nourishing, yet utterly delicious. Many of the dishes are gluten-free, dairy-free, vegan, or all of the above, and they make the most decadent yet guilt-free sweet treats.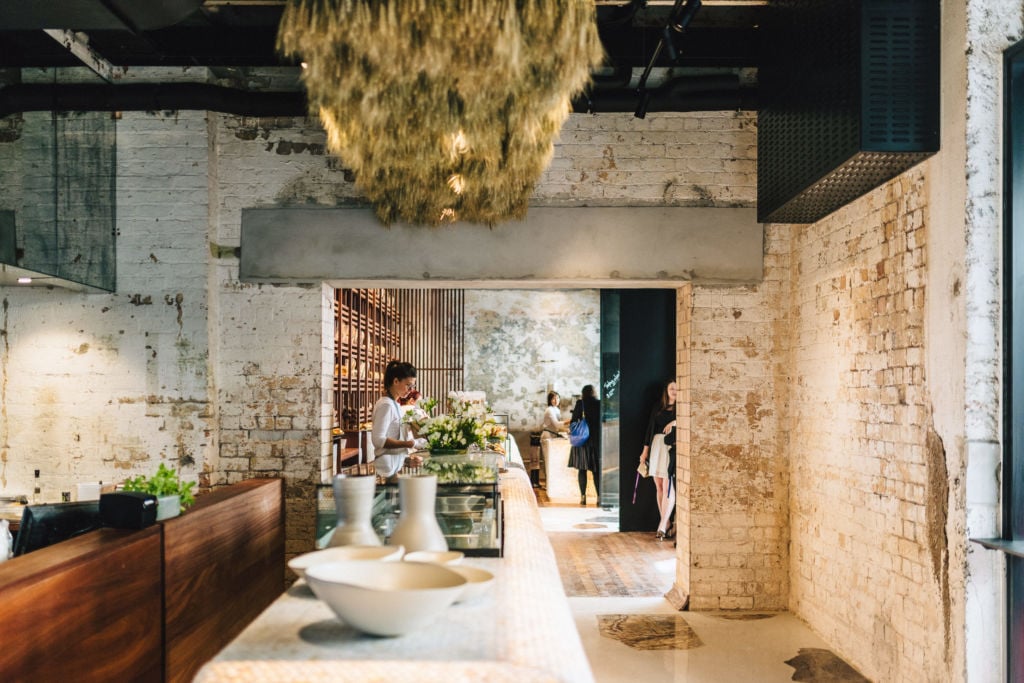 Amano Bakery - sophisticated and scrumptious! Image via The Denizen
Of course, you're on holiday, so this is the perfect time to indulge in carbs, glorious carbs. Britomart's newest luxury resident, Amano Bakery, is the spot to do just that. The first thing that hits you as you step through the door is the mouthwatering fragrance of freshly-baked bread. The interior design here is beautiful (with features like rolled marble benchtops and an ceiling art installation made from wheat), but you won't admire it for long - you'll be quickly distracted by the rows of just-baked sandwich buns, artisan loaves, tarts, croissants and more, all on display and begging to be bundled into a bag for a waterfront picnic. Everything is made the 'old fashioned' way, using authentic, traditional techniques.
The Dry & Tea
This blow dry bar is deserving of a special mention on its own, thanks to the cool contemporary interior design and The Dry & Tea's dedication to a luxurious customer experience.
Take some time out and indulge in a little pampering, enjoying a divine tea tasting (or a glass of wine or bubbles) as some of New Zealand's top stylists get you looking your very best with a blow wave or fresh colour.
Dining by Night
As with cafes and daytime eateries, we'd be here all day sharing Britomart's brilliant restaurants, so we'll simply share a few of our faves with you. Many of these establishments are open for daytime dining also.
Image from SKOPE Industries
Ortolana is a chic little bistro, serving fresh, light and modern cuisine with a garden-to-table ethos - meaning that all the food served is sourced locally. Dine in the elegant conservatory underneath the glass canopy - the understated yet luxury setting, lush with plants, has won multiple design awards and is particularly pretty in the evenings as it twinkles with tiny lights.
Ortolana
Travel to the Southern States at Orleans, which describes itself as a 'music liquor kitchen'. Expect stonkingly good soul food, wicked cocktails and - on Thursday, Friday and Saturday nights - amazing live music thanks to world-class jazz and blues musicians. The leader of the Orleans house band was a member of the Commodores, and has played regularly with Stevie Wonder.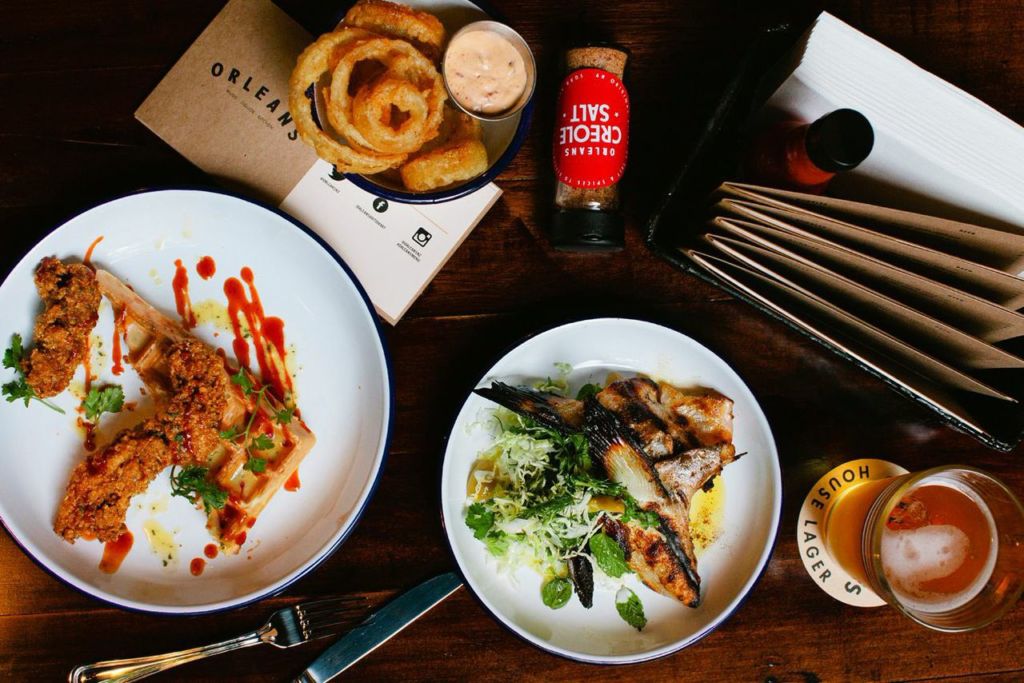 Orleans image via Britomart
Next on our list of favourites is Café Hanoi, dishing up the fresh lively flavours of Northern Vietnam in a truly elegant, contemporary space. The service here is impeccable. And just across the lane, sister restaurant XuXu Dumpling Bar beckons you with Vietnamese-inspired cocktails and tasty small sharing plates.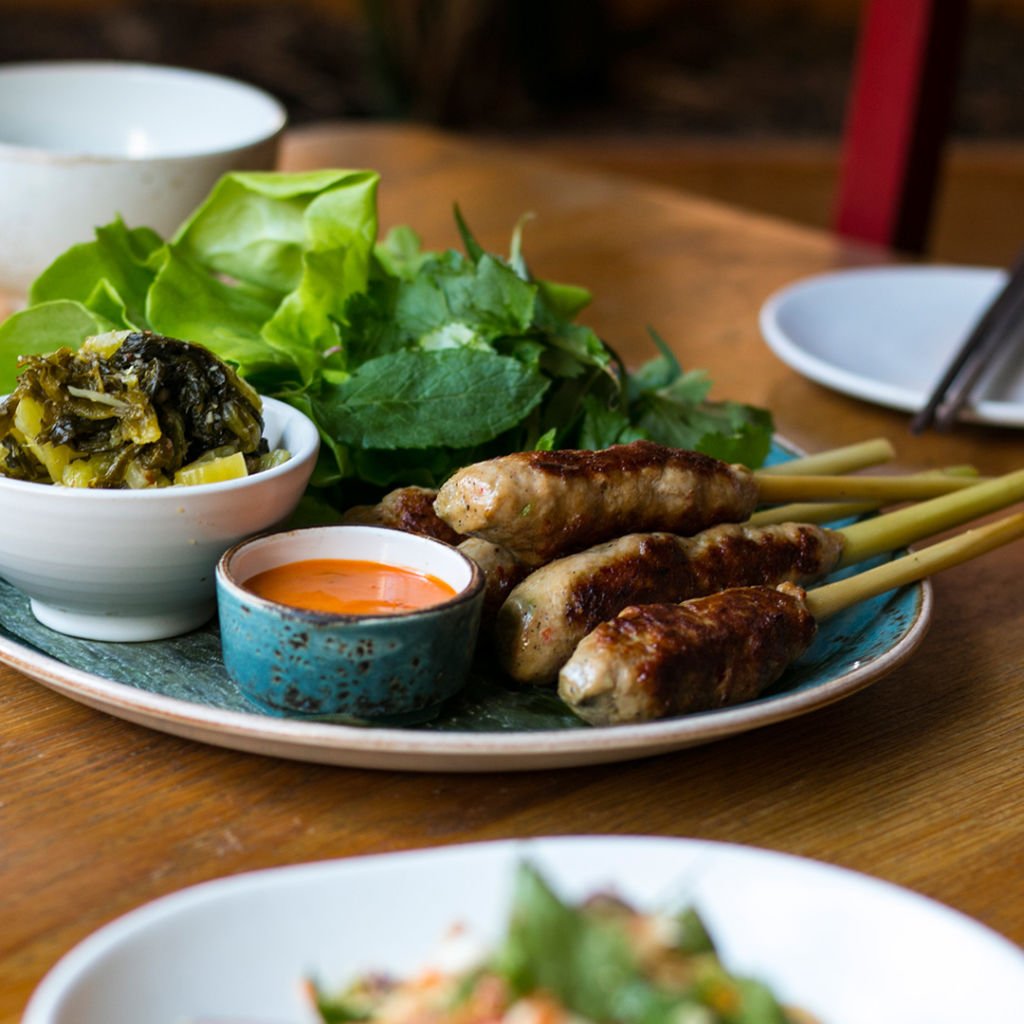 Cafe Hanoi
Another awesome, colourful eatery not to miss is Mexico. Loud and lively music and a no-detail-spared Mexican interior design will have you feeling like you've been transported to Playa Del Carmen. The food is fresh and light but with big punchy flavours, and the sangria and margaritas come by the jug.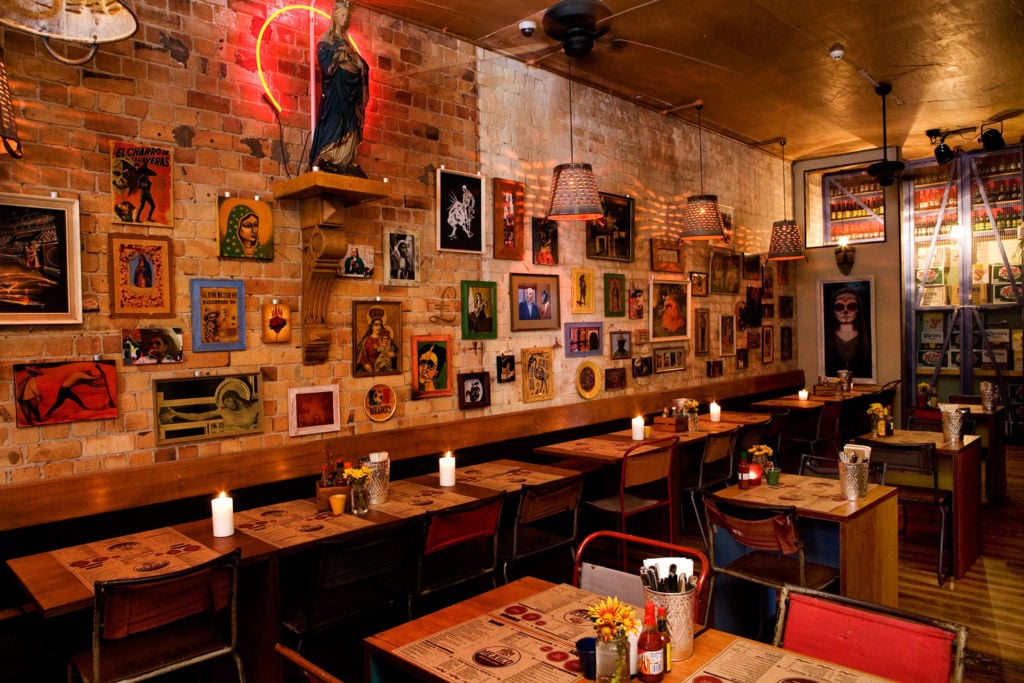 Mexico image via Idealog
Ebisu is one of the most awarded eateries in Britomart. Located in an historic building, the character architecture delights with high ceilings, large arched windows, exposed brickwork and raw timber columns. This exciting eatery, complete with sushi kitchen and cocktail bar, combines the values of traditional Japanese cuisine (freshness, simplicity, quality of ingredients) with contemporary concepts in dining.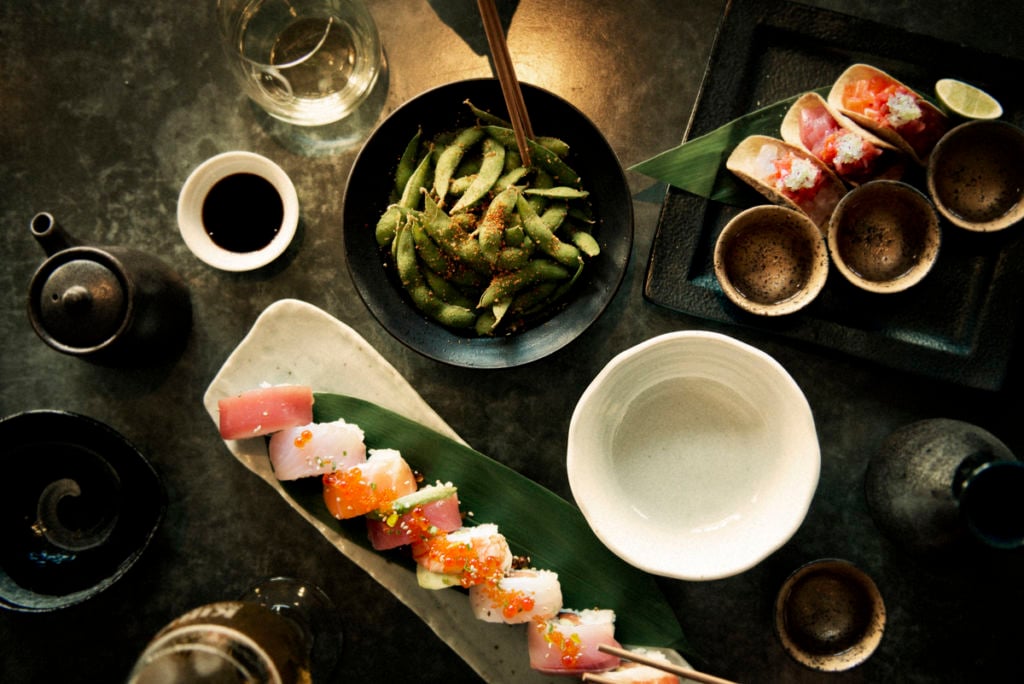 Ebisu Image via Heart of the City
Luxury Concept Restaurant - Milse
Milse (pronounced 'mill-say') is in a category all its own. A sophisticated concept restaurant, Milse exclusively serves dessert. Complementing the exquisite cakes, handmade chocolates, pastries and full five-course dessert degustations is an award-winning, inspired interior, designed by celebrated architect Nat Cheshire. The dining area serves only 20 people at most, but this intimate setting also means you're able to actually see the chefs plating the dessert right in front of you.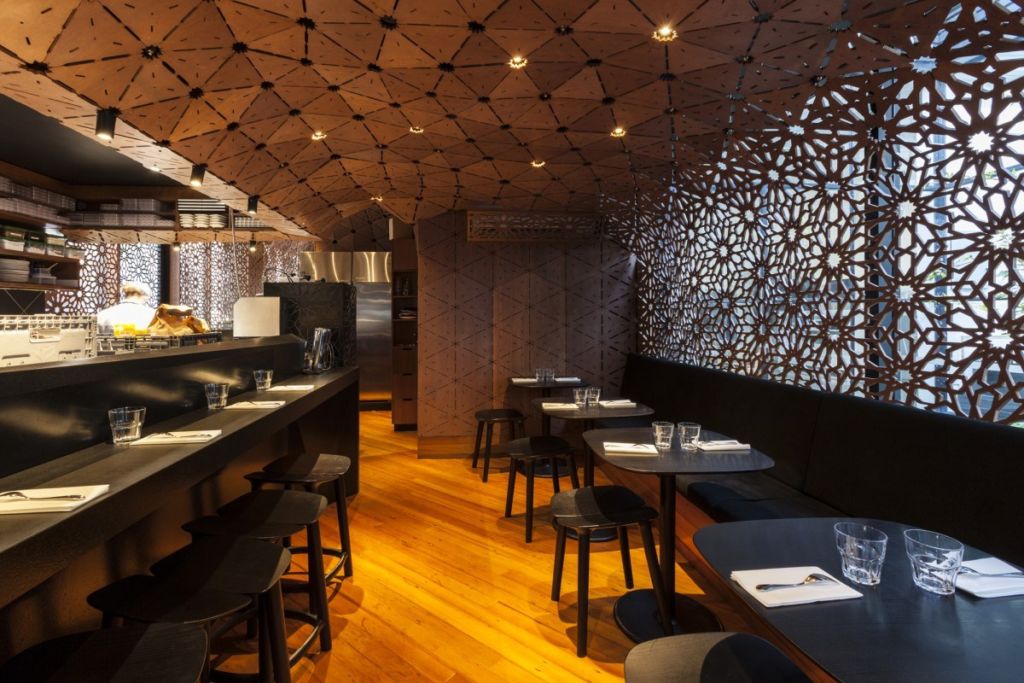 While literally everything they craft here is to die for, the Milse macarons are particularly iconic, as is the gelato. Milse is open from 10am - late every day.
Bars & Nightlife
Britomart really comes alive after dark thanks to a number of buzzing bars and nightspots. Here's a little taster:
1885 - A sophisticated multi-level bar accessed off a private laneway. A real Auckland institution and great for celebrity spotting.
Britomart Country Club - The largest courtyard bar in New Zealand promises a great night out amidst the greenhouse setting, with tunes from top local DJs and your favourite drinks a-flowing.
Fukuko - A tiny little Japanese shochu bar, serving unforgettable cocktails.
Ostro - Visit this international-style brasserie for sweeping views across the harbour and a kitchen team helmed by multiple Michelin-starred chef Josh Emett.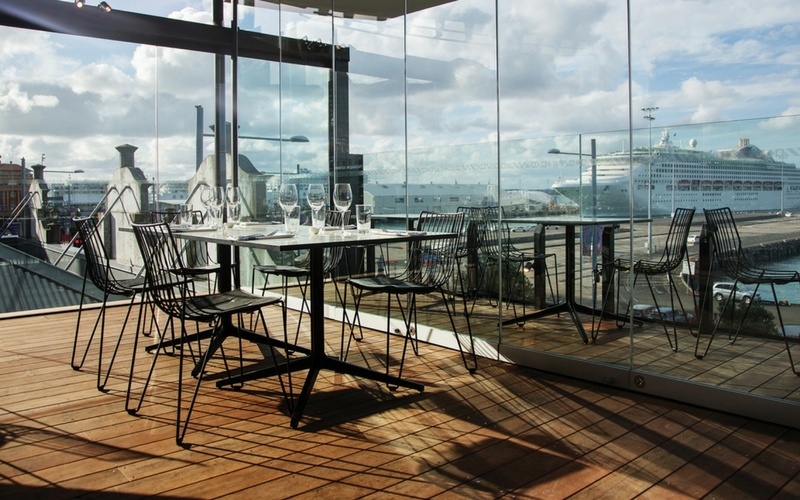 Some of the city's best harbour views from Ostro bar and brasserie - image via The Denizen
Weekend Market
The Britomart weekend market is an authentic farmer's markets, with abundant fresh produce grown right here in the Auckland region. As well as organic and seasonal fruit and vegetables, there's gourmet 'street food', artisan food producers (think salamis, cheeses, preserves...), florists and more. And you're buying directly from the local growers, farmers and makers who produced it.
You can see why we love this world-class city precinct so much, and how you could easily spend full days here, from breakfast until the wee small hours!
We can also recommend and book for you a superb waterfront hotel or even a boutique accommodation nearby. Ready to visit? Ask our well-travelled team to create a luxury holiday itinerary for you in Auckland, taking in the very best of Britomart during your stay.