New Zealand is a wonderland of varied landscapes - sparkling coastlines, lush ancient forests, snowy mountain peaks, steaming volcanic craters - and the best way to see it all is from above...
Here's our pick of 5 of the best scenic flights...
1. Mighty Milford Sound
Perhaps New Zealand's most spectacular natural attraction, Milford Sound is a world-renowned fiord in the South Island. Also a protected World Heritage Area, Milford Sound is known for its dramatically high, sheer cliffs and the spectacular waterfalls that plummet down them. The grandeur of this landscape is difficult to put into words, and we think the best way to experience it is from the air.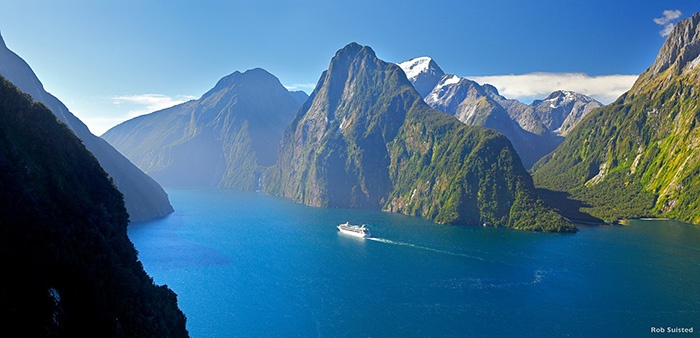 Image by Rob Suisted, via Tourism New Zealand
On board with our partners at Glacier Southern Lakes, you'll discover isolated valleys of ancient forests and pristine braided rivers, and soar among mountains sculptured from ice over thousands of years. You'll land in Milford, where, rising above the deep blue water of the fiord is Mitre Peak, Milford Sound's most iconic landmark. Back in the air, you'll pass the Sound's famous thundering waterfalls (there are two permanent waterfalls here, but when it rains there are hundreds!) as you make your way to a landing on the stunning Mt Tutoko glacier.
After your flight, choose to add a 2-hour boat cruise to really experience everything Milford Sound has to offer, including an opportunity to see fur seals, penguins and dolphins.
Image by Adam Bryce, via Tourism New Zealand
2. The Sleeping Giant - White Island
White Island (Whakaari) is New Zealand's
most active
volcano - a steaming, rumbling giant located 50kms off the Bay of Plenty's coastline. Fly out across the Pacific Ocean, keeping an eye out for whales or pods of dolphins below, and make your way to White Island. What you're landing on is actually the active crater summit of a massive underwater mountain - you're actually walking on the peak of volcano 1,600 metres tall (
more than five Eiffel Towers stacked on top of one another!
).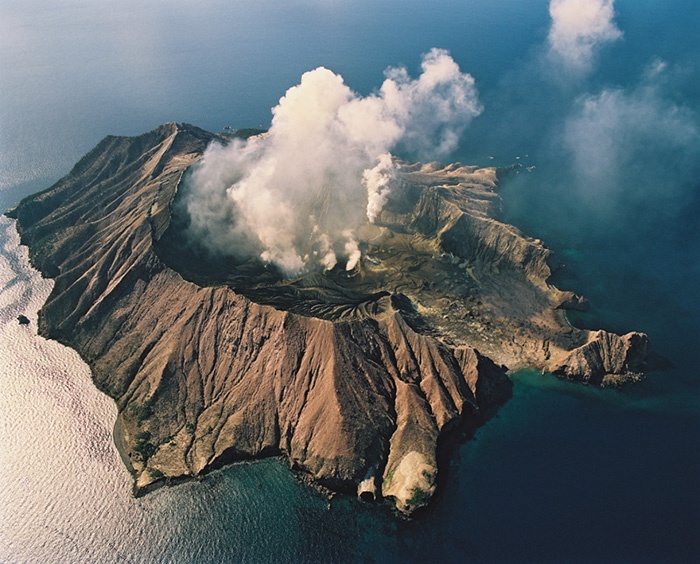 Don your gas masks and join your experienced guide on a journey through the

moon-like
landscape
- walk the

yellow and orange sulphurous terrain, and

get up close to roaring steam vents, bubbling mud pools and a lake of steaming acid!
Walk through the crumbling ruins of an sulphur mine and factory, abandoned when a major eruption caused its destruction.
You'll learn about the fascinating geology and history of the island - this place has tales to tell!
Antipodean Luxury Travel Directors Alexandra and Dean on White Island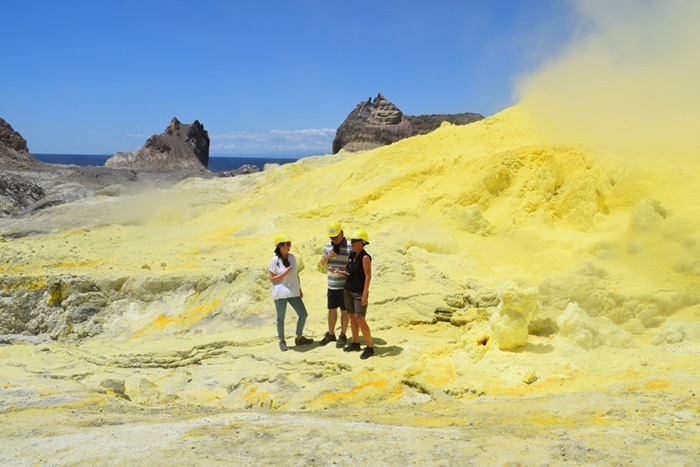 3. Franz Josef Glacier
Regarded as one of the most impressive sights to be seen anywhere on this earth, the Franz Josef glacier descends steeply from the heights of the Southern Alps to near sea-level. The step pitch of the glacier means the ice travels about 10 times faster than typical glaciers, moving more than 50 centimetres per day, with speeds of four metres per day on record! The incredibly fast-moving ice also means that Franz Josef Glacier has some of the most stunning 'ice architecture' of any glacier in the world. The landscape is constantly changing, creating ice caves and tunnels, crevasses, and other formations.
In 2012, there was a cataclysmic collapse of the terminal face, and now the glacier is only only accessible by helicopter.
Let us book you on a flight into this World Heritage protected site, touching down on the snow and exploring the ice falls on the glacier. You'll also soar along the rugged spine of the Southern Alps and circle the peak of magnificent Mount Cook, New Zealand's tallest mountain.
4. Lord of the Rings - South of Rivendell
Chances are you've watched the Lord of the Rings movies, seen some of the incredible scenery in it, and thought "there's no way that's real". Well it is, and it's all here in New Zealand. Flying with our partners at Reid Helicopters, you'll make your way over the majestic Kahurangi National Park and Golden Bay, for a landing on Mt Olympus.
This extremely remote, other-worldly landscape was the setting for a number of epic Lord of the Rings scenes. Land amongst the incredible Olympus Rocks - rock formations, which, over ages, have been eroded by weather to form huge columns and pinnacles.
Our founder Alexandra Stewart (right) re-enacting a scene from Lord of the Rings!
5. Bay of Islands - Isolated Motu Kokako Landing
The Bay of Islands is the name given to the more than 140 subtropical islands off the north east coast of New Zealand. A scenic flight exploring the Bay of Islands (famed for its pristine beaches, world-class diving and big-game fishing) offers some of the finest scenery in New Zealand.
Departing from the beachfront town of Paihia with our friends at Salt Air, you'll track along the stunning peninsula, following the coastline to Cape Brett and its historic lighthouse. There, you'll fly around the Hole in the Rock and have the privilege of landing on and exploring this very sacred, isolated island, Motu Kokako. In early times, as a rite of passage, young Maori males would swim to the island and climb its steep 500-foot cliffs to gather the feathers of the rare Kokako for their traditional war cloaks - returning home as a man and a warrior. There is much more to discover about this special place...
Your flight back to the mainland gives you a birds-eye views of a multitude of the islands - with and their secluded bays, sparkling teal waters and luxurious private residences. Before landing, see the sacred site where the Treaty of Waitangi was signed.
Stingray Cove and Okahu Island from the air
The famous Hole in the Rock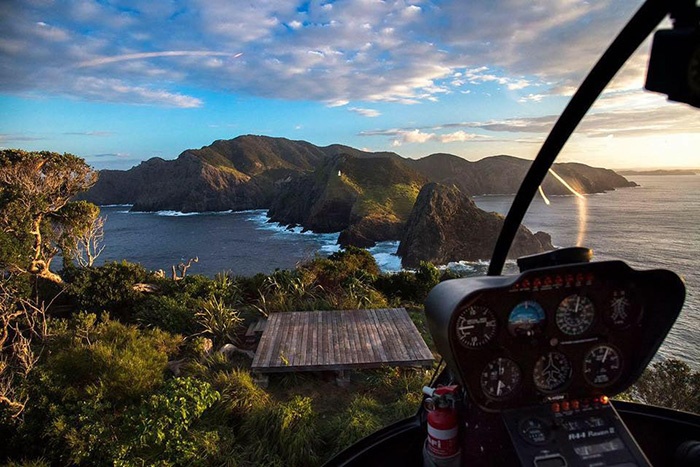 Touching down at the peak of Motu Kokako

To book an incredible luxury holiday to New Zealand, contact our specialist team at Antipodean Luxury Travel today!