I have been known to lament to my friends about walking down the supermarket aisles in Singapore. The variety is certainly impressive, but I tend to search out the New Zealand made products, because I trust they are delicious and have been produced in a clean and healthy manner.
In our Travel Journal we will be bringing you some gorgeous new finds and old favourites. Our 'Ultra' Antipodean clientele receive a selection of artisan goods as luxury gifts on your holiday to New Zealand.
Ahi-Ka Wellness Tonics
Ahi-Ka was started by young New Zealand lawyer and athlete, Tama. Tama has developed two modern drinking tonics orientated around wellness and health; based on traditional Maori herbal remedies. The main ingredient in one tonic is the Kawakawa leaf, which has fantastic anti inflammatory properties. The other is the Kumarahou leaf, wonderful for digestion.
The leaves are picked sustainably from the bush on New Zealand's Great Barrier Island. Raw manuka honey and other ingredients also come from Tama's hives on the island.
Hawthorne Coffee Roasters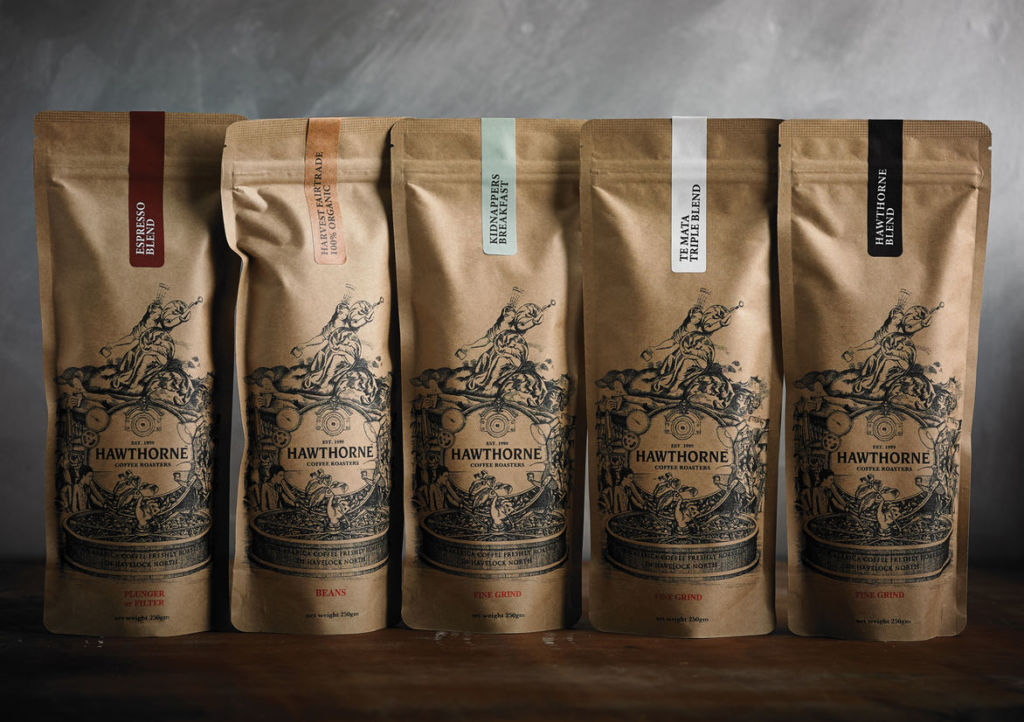 On a recent family holiday in New Zealand, we stayed in the Hawke's Bay at the glorious Black Barn luxury lodges. Amongst the fresh breakfast produce they supplied was a bag of Hawthorne Coffee (hand-crafted, freshly roasted "Kidnappers Breakfast" plunger coffee), and we have never looked back.
Tucked away in the village of Havelock North in Hawkes Bay, is New Zealand's most awarded producer of fine Arabica Coffee blends. Freshness is the key to Hawthorne Coffee. Beans from all over the world (Central and North African, Central American and the South West Pacific) are roasted in the morning and then blended, bagged and dispatched later the same day so the coffee is as fresh as it can possibly be.
It really is delicious. To us, one of the definitions of Luxury is beautifully sourced and produced food.
Blue Frog New Zealand
New Zealand Food technologist Scott sells a range of premium breakfast products made from whole-food ingredients. There is something for everyone whether you're looking for wheat-free, gluten-free, paleo or just delicious! The range includes six award-winning breakfast cereals, three coffees and a zesty orange syrup which is divine drizzled over cereal and fresh yoghurt.
Premium New Zealand Olive Oils
Wayne and Maureen from The Village Press are well-known for their olive oils made from olives grown and pressed in Hawkes Bay. These oils are loved and known not only in New Zealand but globally, and they are absolutely delicious. My favourites are garlic, lemon and truffle-infused oils. They now produce Avocado Oil, which is great for your skin, joints and brain function, and is delicious with avocado, feta and mint leaves on sourdough bread, our usual Sunday morning breakfast ritual.
Let me know if you want the recipe and I'll send it to you!
Consider yourself a foodie? How about a luxury food tour of New Zealand? New Zealand produces some of the finest artisan food in the world, and we can tailor-make an itinerary that takes in the very best of New Zealand flavours and destinations.
Contact our small team of luxury New Zealand travel specialists today!