New Zealand has some of the best world-class walks perfect for keeping the children entertained and putting one foot in front of the other. Half day, full day or multiple day walks we have chosen a few of our favourite New Zealand nature walks.
Mangawhai, Northland. Photo Credit: Fraser Clements
1)

Punakaiki

Pancake Rocks (Westport, South Island)
Explore a limestone landscape of pancake-shaped rock formations, blow holes and plunge pools on this exciting and short 30-minute paved walk. Keep your eyes peeled for whales and dolphins often playing in the water off the coastline and rare birdlife flying above.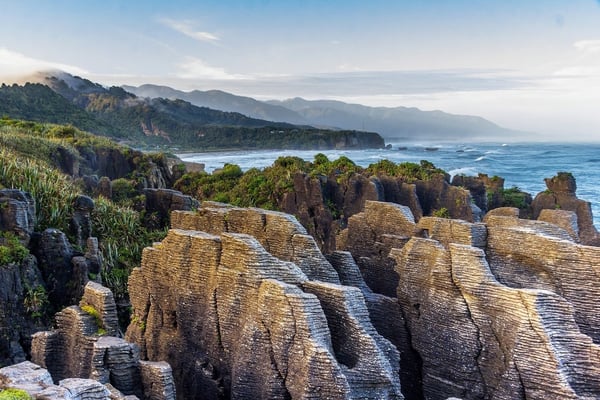 The mesmerising Punakaiki Pancake Rocks. Photo Credit Trover,
2) Sinclair Heads Seal colony walk (Wellington, North Island)
Salt, sea, and seals. Experience it all on the Sinclair Heads Seal Colony Walk. A short 45-minute drive from the Wellington CBD and you will soon be hiking the rugged coastline. Your easy 50-minute walk will provide many opportunities for the kids to scout the fur seals and the tip of the South Island across the Cook Strait.
Spot the fur seals at Sinclair Heads. Photo Credit JetSetting Fools.
3) Glow Worms Night walk (Katikati, North Island)
Jet-lagged children, that won't sleep? Take advantage of your night owls and experience the joy of the Katikati glowworms. A 40-minute drive from Tauranga will find you in the Tahu Carpark where your night adventure begins. Allow an hour to complete your 0.5km hike and be amazed by the memorable luminosity of the glowworms. Don't forget your flashlight!
The bright glowworms are loved by children and adults. Photo Credit Real Journeys.
4) Queenstown Hill (Queenstown, South Island)
Pack a picnic and hike the Queenstown hill to the "Basket of Dreams " providing the famous striking views of Queenstown. The three-hour walk will exhilarate you with views over the Wakatipu basin, Cecil Peak and Queenstown Bay. Prepare to be mesmerised by the share size of surrounding mountain ranges while enjoying your picnic lunch.
Make a wish in the basket of dreams. Photo credit Kiwi Car Baughs.
5) Queen Charlotte Track (

Marlborough Sounds, South Island)
At the top of the South Island located in the Marlborough Sounds awaits the world-renowned Queen Charlotte track. Popular for its picturesque coastal views, historical landmarks, and wildlife. Keep your eyes peeled for our friendly Native Weka birds that are always a crowd pleaser with the kids.
The 70km trip can be completed in 2-5days with guided and freedom walking options and a variety of accommodation to suit the family. For those with a little extra time mix up your days of walking by having a prearranged afternoon of fishing, kayaking or mountain biking incorporated into your hike.
Our friendly native Weka birds will be sure to say hello on the Queen Charlotte track. Photo Credit NZ Birds Online.
6) Abel Tasman (Nelson, South Island)
A multi-day coastal trek located at the top of the South Island. Although New Zealand's smallest national park, you will be blown away by everything this national park has to offer for families.
Not limited to purely hiking the coastal trail, families can mix it up by catching water taxis and kayaking different sections of the 5-day trail. Surrounded by turquoise water, golden sands children often enjoy watching the dolphins play in the waters off the beach.
Plan an afternoon of kayaking to mix up your days spent walking the Abel Tasman. Photo Credit Kidz Go New Zealand.
Get in touch with us today to learn more about personalised travel, and what can be designed just for you and your family.