New Zealand is the ultimate destination for couples.
Here are 10 memorable, romantic ideas for your New Zealand getaway...
1. Stay in a Secluded Glass Cabin
Spend a night in a glass eco-cabin, nestled deep in a stunning New Zealand landscape. You'll park your vehicle and then walk, for up to one kilometre, to the secluded site. There are several of these beautiful glass cabins (PurePods) throughout New Zealand - the Korimako PurePod is nestled into lush native bush while the Atatū PurePod is perched up high with sweeping views across the sparkling ocean. Our favourite is the Greystone PurePod, as the fabulous award-winning Greystone winery is nearby for a visit.
Surrounded on every side by a breathtaking wilderness view, and at night, under a canopy of stars that you can gaze at through your glass roof, you'll feel like the only two people on earth. We can arrange for delicious dinner and breakfast foods to be waiting for you, along with champagne or wine should you wish.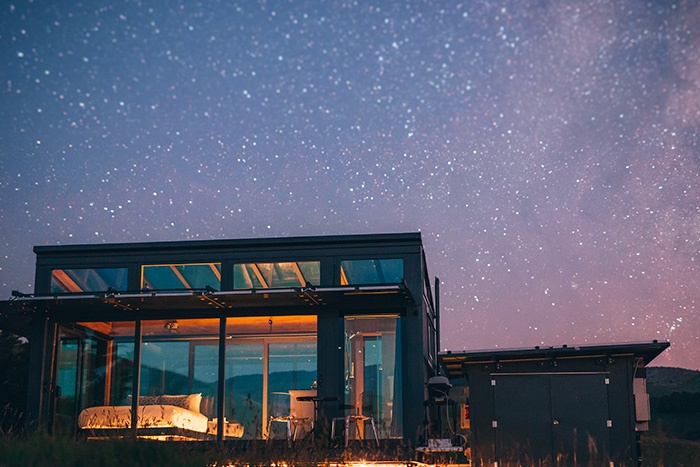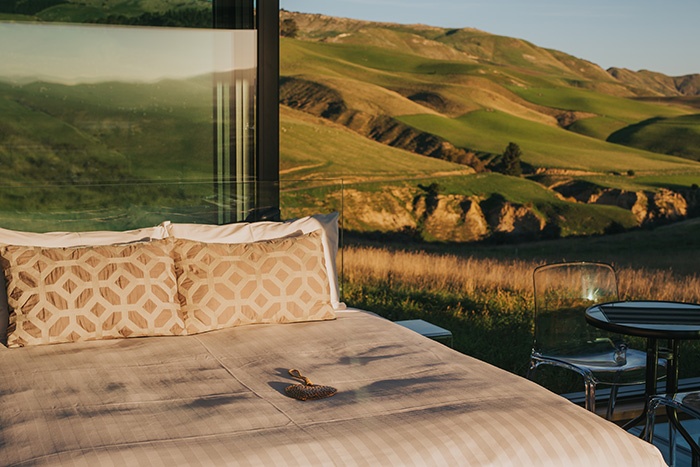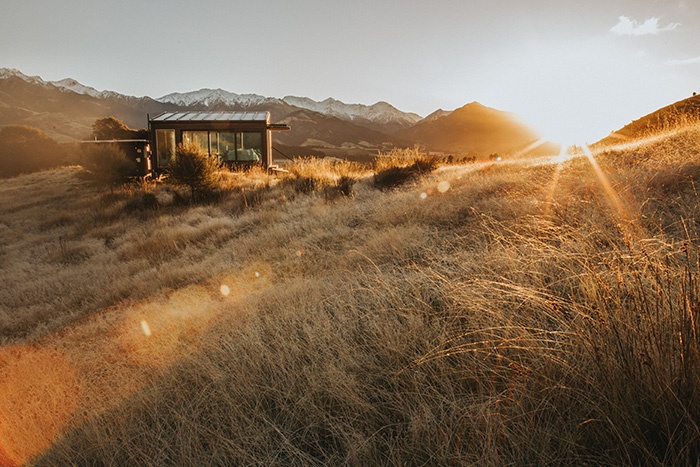 2. A Picnic on Top of the World
Board your helicopter and pop the cork on a bottle of champagne, as you soar through some of the world's most stunning landscapes. Your pilot will take you high above Queenstown, over glittering Lake Wakatipu and into the mighty Southern Alps. You're making your way to one of the highest peaks of this mountain range, where a gourmet picnic will be laid out for you and your sweetheart. This is what memories are made of.
Just the two of us, building castles in the sky. Image via our partners at Over the Top Helicopter Company
3. Charter a Luxury Launch
If you love seafood and wine, this is the experience for you. Spend two nights hosted aboard luxury launch Tarquin, journeying through the Marlborough Sounds. This is one of New Zealand's most picturesque destinations, and as you weave your way through intricate waterways (past islands, secluded coves, and sheltered inlets), you'll enjoy sublime fresh seafood and world-class Marlborough wines - courtesy of Tarquin's private chef.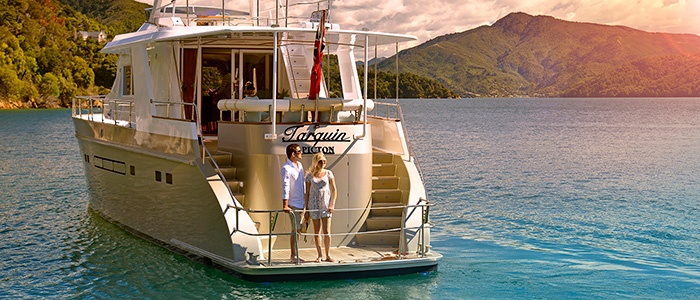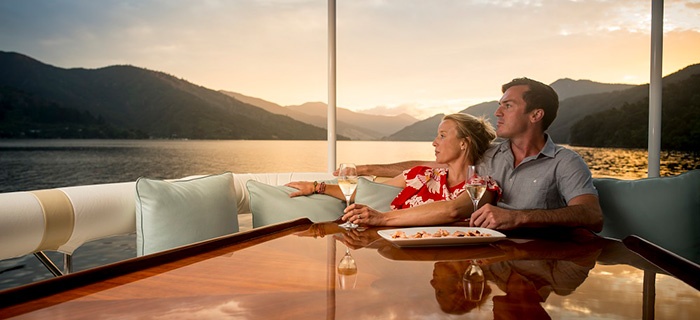 Visit a King Salmon farm, experience a walk through a birdlife reserve or on the famous Queen Charlotte track, try your hand at fishing, or kayak the Abel Tasman National Park. Foodies can take the opportunity to join the chef for a private cooking masterclass. This two night cruise that's the ultimate combination of scenic wonder, adventure and luxurious indulgence.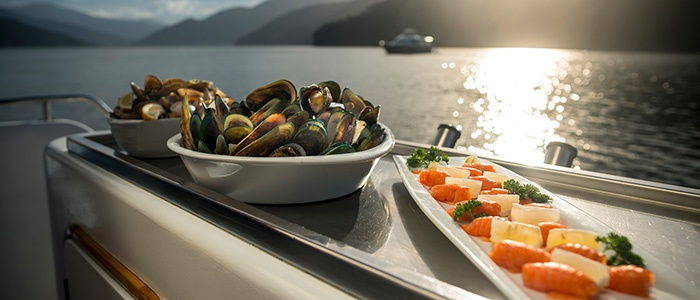 Images courtesy of Tarquin Cruises New Zealand
4. Onsen under the Stars
Imagine your own private spring-fed hot pool, located high on a cliffside, overlooking breathtaking alpine scenery. This is the now Instagram-famous Onsen Hot Pools.
Each cedar-enclosed spa room enjoys stunning, panoramic views of the Shotover River from the massive retractable picture windows. This place is particularly romantic as the sun goes down, when your private Onsen will be lit with Japanese lanterns. Sip on a glass of champagne while enjoying the night sky full of stars. After your glorious hot soak, enjoy a one hour couple's massage.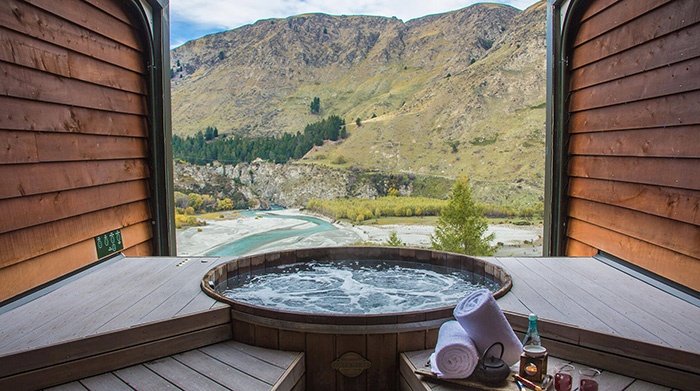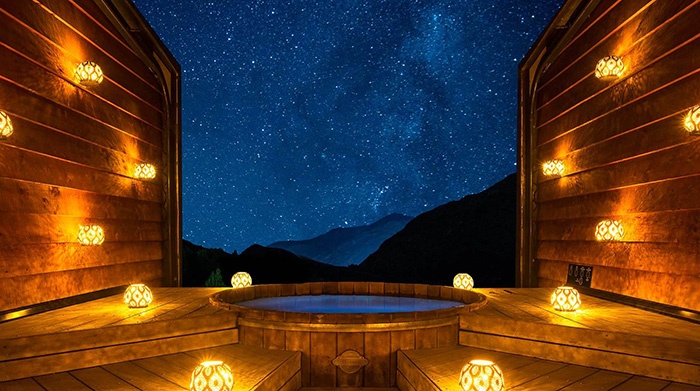 Image via Onsen Hot Pools, Queenstown

5. All Blacks Exclusive
If you're rugby mad like our founders, we can organise an exclusive All Blacks experience for you! Perhaps you'd like to watch an international match from the best seats in the stadium - a VIP box - hosted with superb food and drinks. Recently, one of our clients wanted to surprise her rugby-loving husband with a honeymoon gift. Our team managed to organise an exclusive helicopter flight for the couple with none other than Richie McCaw, one of the game's most loved All Blacks.

6. Private Cellar Dining
The Sophia Barrel Room at Craggy Range Winery sets the stage for an unforgettable evening meal together. Tour the vineyard, enjoy a private wine tasting, then make your way to the circular wine cellar - closed to the general public. Dine with matched wine from Craggy Range's internationally-renowned selection. It's an ultra-romantic, intimate venue for a very special dinner.
Photography by Linda Baylis Photography
7. Luxury Farm Stay - Seascape
The ultimate in luxury and privacy. Imagine a picturesque, secluded and unspoilt New Zealand beach, above which is perched an ultra-modern, architectural retreat. This is Seascape - a world-class boutique accommodation, ready and waiting for just the two of you to enjoy.
Accessed only by helicopter or by a 40-minute 4WD vehicle journey across cliff-top farm tracks, this is a truly awe-inspiring setting. Inside the glass walls of this contemporary accommodation, a king-size bed sits upon a dais, a step up from the living area and indoor fireplace, so the incredible view dominates the space.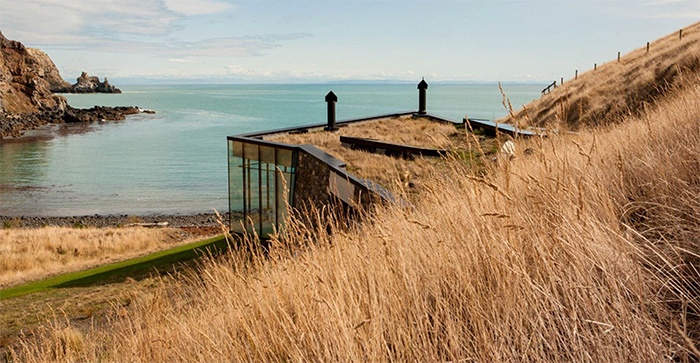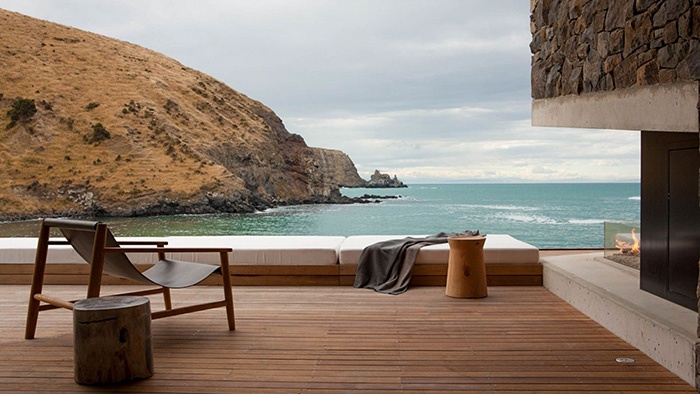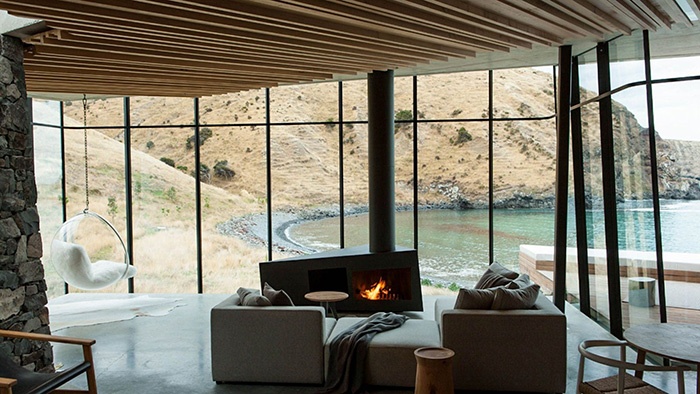 8. Frolick in Lavender Fields
Take a walk together through the heavenly-scented flower fields at Wanaka Lavender Farm. The air is heavy with the beautiful aroma of lavender - known the world over for its calming and relaxing properties. Take time to unwind over a cup of tea, and enjoy a lavender and honey ice-cream or another treat from the selection of lavender & honey goodies, all made using local ingredients. This stunning farm is also home to friendly resident animals you can meet.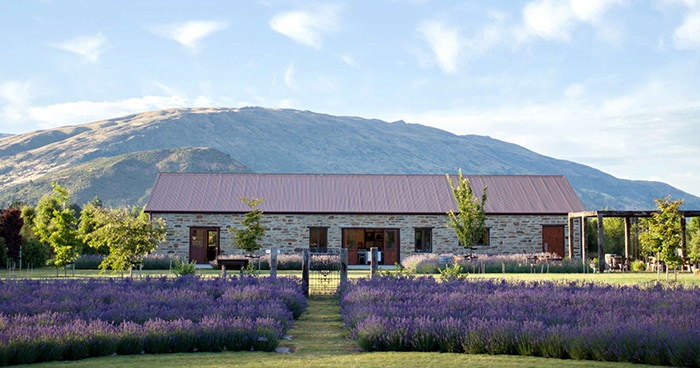 9. Hilltop Glamping
We love glamping. All the romance and adventure of wilderness camping, without sacrificing the comforts of home. One of our favourite places to glamp in New Zealand is Waitomo Glamping. Their beautiful big safari tent is located on a 500-hectare, third generation farm, and is perched high on a hilltop with expansive views in every direction.
Bask in views of rolling farmland (you'll also spot loads of wildlife and beautiful native birds) whilst you toast marshmallows around the outdoor fire, cook dinner in the pizza oven or enjoy a breakfast of organic eggs collected from the farm, and soak in the two outdoor side-by-side baths. It's hard to imagine a better place to unwind, and re-connect.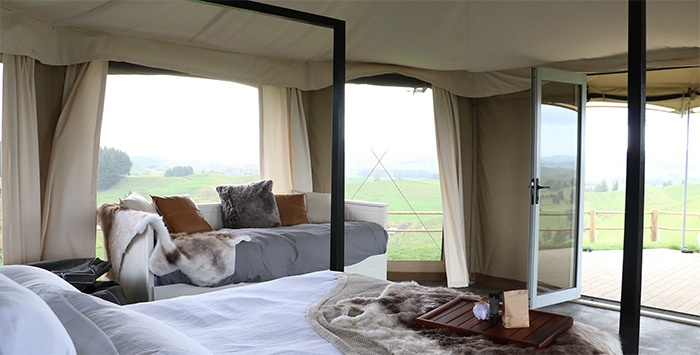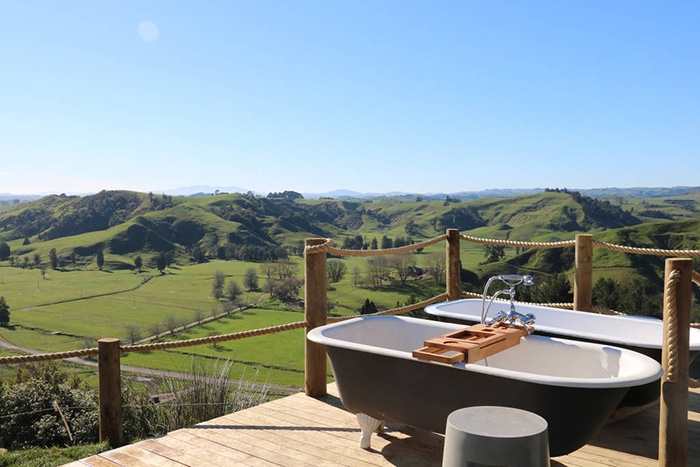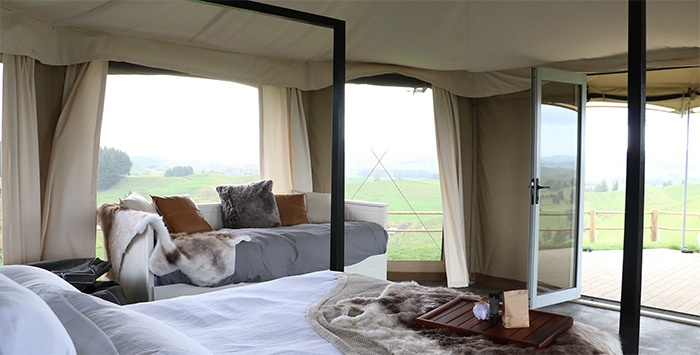 10. Plant a Native Tree
What better symbol of your commitment and love than something that will grow, flourish, and live on forever? Planting a tree is a beautiful meaningful ritual, and planting a New Zealand native - such as a mighty Kauri, or the beautiful flowering Kowhai - is extra special. Our partners at luxury eco lodge Hapuku Lodge offer this memorable experience, along with a Maori cultural experience which will make your planting even more sacred. Our hosts will capture the moment on camera for you, and provide you a certificate.


For more fabulous ideas for your romantic getaway or honeymoon in New Zealand, contact our team. We are New Zealand specialists, and pride ourselves on personalised itineraries - so you'll enjoy a holiday that's been designed especially for you based on your interests and passions.