Recently our CEO Alexandra Stewart, was lucky enough to spend two nights at Sal Salis, the luxury wilderness tents to experience swimming with the Whale Sharks on Ningaloo Reef. With a tag line, "Where the outback meets the reef" these fifteen eco-luxe wilderness tents and one honeymoon tent are hidden amongst the dunes overlooking Ningaloo Reef, right on the beech.

The true luxury of Sal Salis is the chance to reconnect with nature and an opportunity to disconnect from the world – there is no wifi or cell coverage on the property, but after a few hours you relax with it, and chill into the peaceful environment.

Photo Credit - Lauren Bath
With twice daily immersive wilderness experiences with safari guides, sundowners and a delicious dinner with matching wines all included, this is a fantastic place to remember what's important, time with loved ones and spending time in the natural environment.

The attraction lies in the coral reef, just a few metres off shore, and its colourful corals and marine residents. Ningaloo is also acknowledged as the best place in the world to swim with the world's largest fish, the Whale Shark, as these gentle giants migrate through every year. From late August, early September, swimming with humpback whales will also be a highlight for guests at Sal Salis.
Alexandra Stewart - Photo Credit Live Ningaloo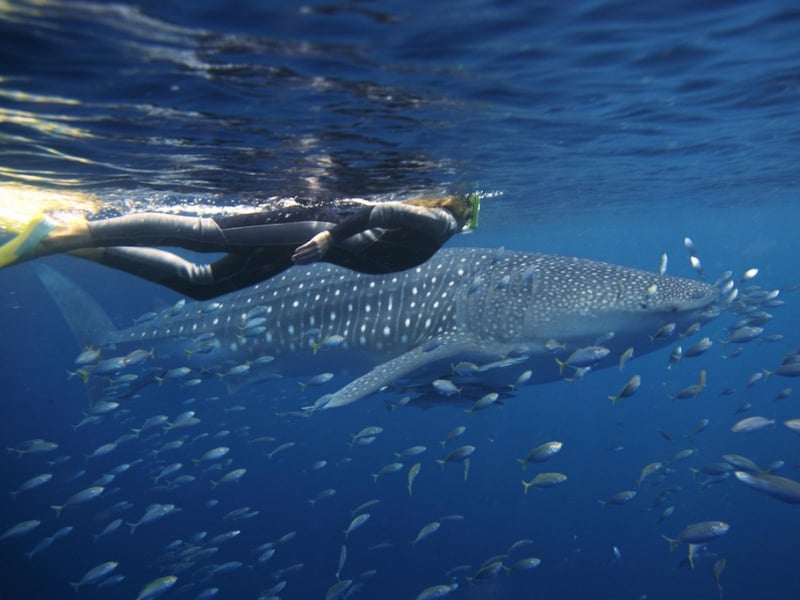 The sun and tide set the pace at Sal Salis. At high tide take a gentle stroll up the beach, dodging Soldier Crabs, before drift snorkelling back along the inner edge of the reef. Or kayak out to the Blue Lagoon, a 5-metre deep natural aquarium where huge schools of fish, reef sharks and turtles swim amongst the coral formations.
Ningaloo is a major breeding ground for Hawksbill, Loggerhead and Green Turtles, which lay their eggs on the beach at night.
Photo Credit: @City.Hawk
Photo Credit: Nush Freedman
The coastal dunes and gorges in the Cape Range National Park provide a prolific terrestrial wildlife experience with red kangaroo, euros, echidnas, emus and more seen in and around the camp.

An evening drive and sundowner on top of the Cape Range is a spectacular way to end the day otherwise sundowners are also on the whale viewing deck above the camp. For guests looking for more seclusion in the evening, dinner hampers can be prepared to take down to the beach for a romantic evening at the water's edge.


Points of Note:
Drinks are included in the tariff and include a selection of beers, spirits and premium Western Australian wines.
Minimum Stay
2 nights
Family Policy
Please note that the camp is not suitable for children under the age of 5 (The minimum age is about to go up, so get in soon if you have young children).
Season
Sal Salis is closed between 1st November 2016 and March inclusive.
Maximum Capacity
Three people. Child or third adult sleeps in deluxe swag – a traditional Australian bedroll made up with duvet, sheets & pillows.
All other photo credits: Sal Salis Wilderness Tents