Holidays are a chance to stretch beyond your comfort zone, to challenge yourself to experiences that make you feel truly alive. New Zealand's great outdoors are the perfect setting for a once-in-a-lifetime adventures - here's our pick of the Top 10...
1. Explore a Black Labyrinth
Imagine floating along rivers and down waterfalls, deep deep underground - with thousands upon thousands of glow worms lighting your way. This is Black Water Rafting, and it's an absolutely unforgettable adventure.
Floating along an underground river, with a galaxy of glow worms suspended in the cave ceiling above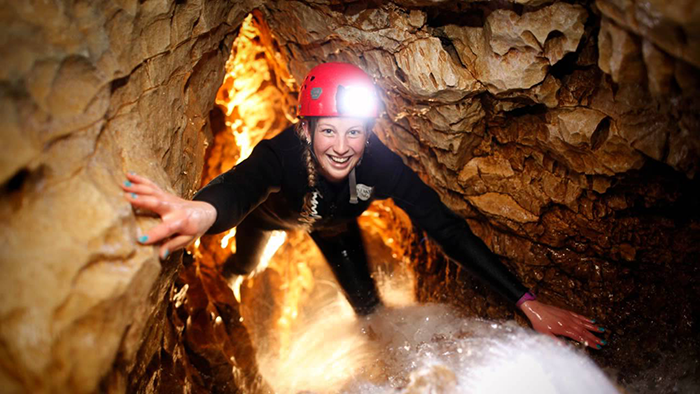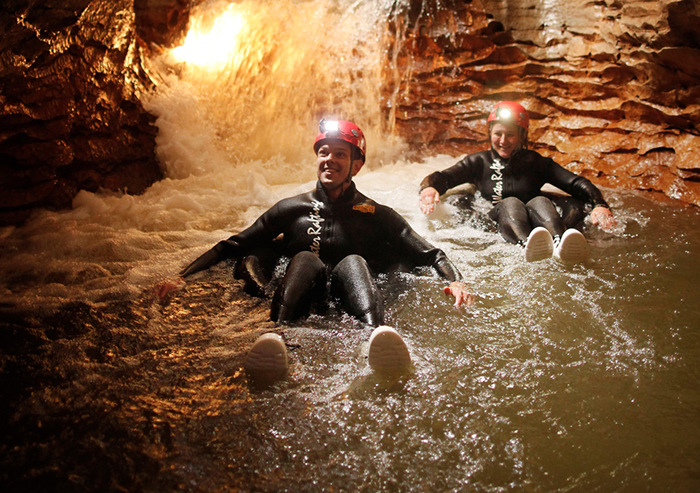 All imagery from our adventure partners at The Legendary Black Water Rafting Company
You'll jump into cascading underground waterfalls, and float along a subterranean river - through tunnels that have been created by the forces of nature over millions of years. Get your pulse racing on the underground flying fox, and abseil straight down into the 35-metre Ruakuri Cave! Group sizes are small, and you'll be looked after by some of the world's very best adventure guides.
2. The
Highest Rafted Waterfall in the World
Take on the challenge of white water rafting down the highest commercially-rafted waterfall in the world!
This is a grade-five river adventure and includes 14 epic rapids along a tight and twisting jungle canyon. The one-hour thrill ride culminates with you and your group taking on the world famous seven metre Tutea Falls. Hold on tight!
All imagery via our partners, Kaituna Cascades
3. World Famous Bungy Jump
New Zealand is the birthplace of bungy - jumping head first off a bridge, strapped to a giant elastic 'cord' - and there is no better place to do it than at the original home of bungy, with the crew who pioneered the sport!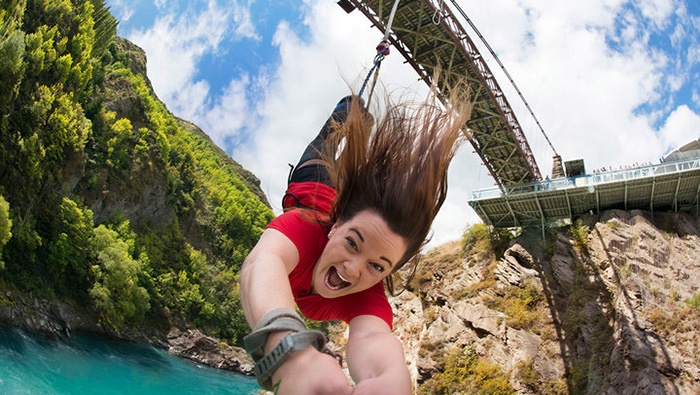 Images courtesy AJ Hackett Bungy
AJ Hackett is a New Zealand entrepreneur and adrenalin-junkie who 'invented' the bungy jump back in the 1980's. After making a famous jump from the Eiffel Tower in 1987, he founded the first commercial bungy site in 1988. Three decades and hundreds of thousands of jumps later, AJ Hackett Bungy are still helping people dive off the Kawarau Bridge, high over Queenstown's Shotover River. Take that leap of faith on your own, or try a tandem jump with your friend/partner. You can also purchase photos or video of your feat - it would be a shame to complete one of the best experiences of your life without having proof to tell the tale!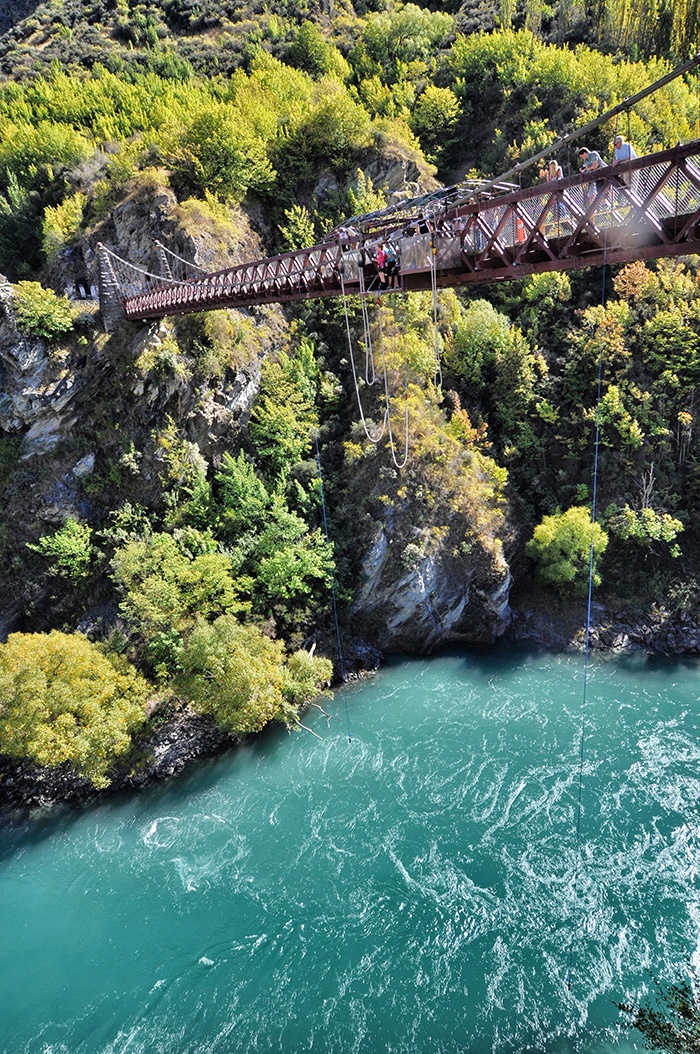 4. Free-Fall Sky Dive
Skydive Franz offer the highest free-fall sky dive in New Zealand, at a whopping 19,000 heart-stopping feet! That's more than 90 death-defying seconds of free-fall.
This might just be the most beautiful landscape to sky dive in, too. Once your parachute opens and you can breathe again, take in stunning views of New Zealand's highest mountain (Aoraki/Mount Cook), New Zealand's biggest glaciers (the mammoth Fox and Franz Josef glaciers) along with wilderness lakes, rivers and the wide blue ocean.
5. Walk on an Active Volcano
Located out in the ocean (50 kilometres off the Bay of Plenty) is White Island, New Zealand's most active volcano. Join a boat tour or helicopter flight out to the island to explore the lunar-like landscape with its hissing steam vents, bubbling mud pools, bright orange and yellow sulphurous terrain, and a lake of steaming acid!
See the crumbling ruins of an sulphur mine and factory, abandoned when a major eruption caused its destruction, and marvel at the fact that you are actually walking on the rumbling, very-much-active crater peak of a volcano that's 1,600 metres tall (five Eiffel Towers stacked on top of one another)!

6. The Home of Jet Boating
New Zealander's are renowned for their innovative and creative spirit (the phrase "good old Kiwi ingenuity" is common here) and are the pioneers behind a number of now-iconic ideas and technologies. One such, the jet boat, was developed in the 1950s by New Zealand farmer William (Bill) Hamilton, who needed a way to quickly navigate the shallow rivers of his Canterbury farm. He attached a powerful jet engine to a small boat and the thrilling watersport of jet boating was born.
One of the finest places in all the world to go jet boating is on Queenstown's Shotover River. From the moment the accelerator hits the floor, your adrenaline hits the roof. You'll speed over water that's only 10cm deep in places, through the spectacular Shotover River canyons. The steep canyon walls tower over you as your expert driver puts his state-of-the-art jet boat through its paces. At speeds of 85kph, you'll whip past rocky outcrops, skim around crags and boulders, and speed through the dramatic and narrow canyons. Expect breathtaking views and breathtaking 360° spins!
7. Zorbing
Zorbing, another adventure activity invented here in New Zealand, is fun for all the family. Climb inside a huge inflatable ball and then roll at speeds down a rural hillside, along a zig-zagging sidewinder track that'll have you bumping, tumbling and laughing uncontrollably!
For double the fun, ride your Zorb tandem with a friend, or hop in a water-filled Zorb!


8. Heli Skiing
If you're an intermediate or expert skier, heli skiing in New Zealand will be your idea of heaven. Land on remote peaks in New Zealand's back country, to ski fresh, untouched powder. Your pilot will chopper you to incredible runs (you choose the grade), wide open bowls and steep chutes, all inaccessible to the general public. Enjoy awe-inspiring scenic views as you fly into the majestic Southern Alps mountain ranges, then spend the day carving your way through virgin snow with your experienced guide.

Images by The Helicopter Line via Tourism New Zealand
9. Swim with Dolphins

There are a number of spots in New Zealand where you can go swimming with wild dolphins, but perhaps the most special of them all is in Akaroa Harbour - a protected marine mammal sanctuary, formed from the flooded remains of an extinct volcano crater, and now home to the Hector's Dolphin.
Hector's Dolphins are the rarest and smallest dolphins in the world, found only in New Zealand - having the chance to swim with these gentle creatures is listed by Lonely Planet as one of the Top 10 Marine Mammal Experiences in the World. Hector's Dolphins are officially an endangered species, and part of the cost of your award-winning adventure goes to conservation efforts.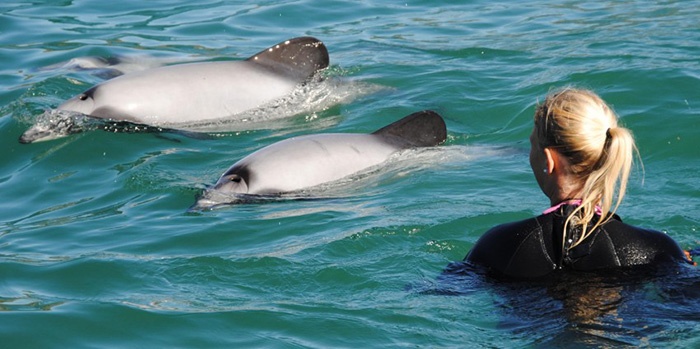 Images via Black Cat Cruises
10. Canyoning
If you have a good level of fitness and an even greater taste for adventure, canyoning in the famous Routeburn Valley has got to be on your New Zealand bucket list! Our partners Routeburn Explorer will take you to normally-inaccessible pockets of this legendary UNESCO World Heritage Area - also filming locations for the Lord of the Rings and The Hobbit movies.
After being fitted with all your canyoning kit, you'll begin a 30 minute trek through stunning native rainforest, along the world-renowned Routeburn Track, making for the isolated canyon. In the canyon, you will abseil, jump into crystal clear pools, zip-line over native bush, navigate through narrow passageways and slide down chutes.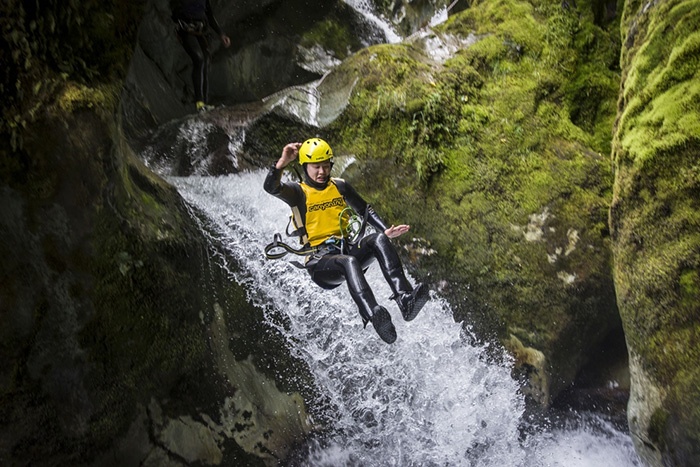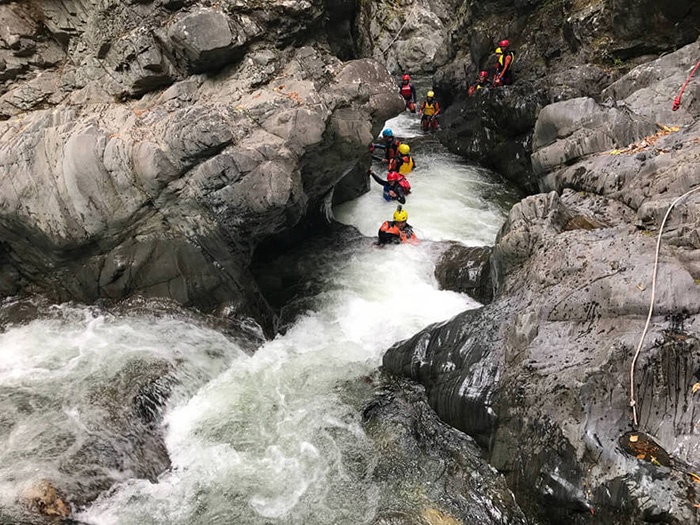 Ready to take on one (or more) of these bucket-list New Zealand adventures?
Contact our team of New Zealand travel specialists - and let's plan the holiday of a lifetime for you!