New Zealand and Australia are home to some of the world's most incredible scenic drives. From Mountain ranges to rugged coastline there is no boring car ride to be had. We suggest you buckle up and experience our top 5 scenic drives for yourself.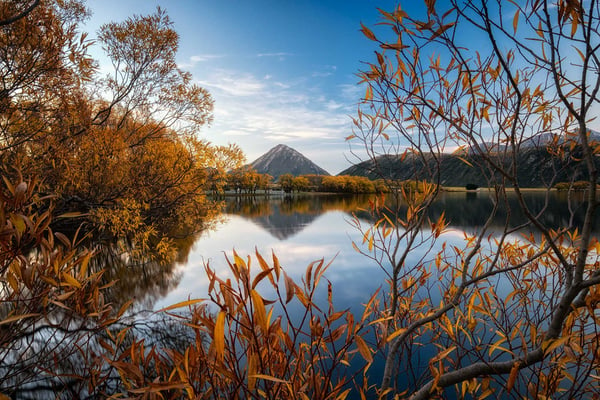 Mountain reflections at Lake Pearson 20 minutes from Arthurs Pass Village. Photo Credit In a Far Away Land.
1) Arthurs Pass (South Island, New Zealand)
Starting in Christchurch, wind your way along the base of spectacular mountain ranges towering above you on your journey through one of New Zealand's most
breathtaking national parks. If you fancy a lunch stop, take a quick thirty-minute walk up to the Devils Punchbowl Waterfall a fun walk and a perfect spot to eat while being sprayed by the freshwater plummeting down. As you continue your drive along the Bealey River to Greymouth or Hokitika enjoy the iconic mountain scenes but be sure to not lose your focus on the road.
2) The Milford Road (South Island, New Zealand).
Prepare for glacier-carved valleys, lakes that reflect mountain ranges and vibrant New Zealand rainforest. Starting in Te Anau this scenic drive works its way through the Fiordland National Park. Be prepared to hold your breath as you pass through the famous Homer Tunnel, a single lane 1,270m tunnel that astonishingly cuts right through the middle of a mountain. If your journey hasn't been incredible enough so far, the Milford Sounds your final destination will soon have your jaw dropping in amazement.
Pack your camera, the 12 Apostles on the Great Ocean Road are not to be missed. Photo Credit: Visit Melbourne
3) The Great Ocean Road (Victoria, Australia)
Living up to its name this road sure is great and couldn't be closer to the ocean. Probably Australia's most iconic scenic drive of course it has been listed as a National Heritage drive. 243 kilometres in length be prepared to allow time for countless stops, as there are so many unbelievable scenic highlights. A few of our favourites are the rugged 12 apostles and the coastal town of Torquay. There really is nothing quite like the Great Ocean Road.
The Wild West Coast, New Zealand. Photo Credit: Blue Penguin Travel Blog.
4) West Coast Road (South Island, New Zealand)
This windy road is one of New Zealand's best-kept secrets, following along the coastline of the west you'll soon appreciate why it has been named one of the top ten coastal drives in the world. With the wild Tasman Sea roaring away on one side and the lush rainforest on the other, you're in for a true New Zealand experience of the "Wild West Coast". Be sure to stop at the popular Punakaiki Pancake Rocks and enjoy the thrill of the plunge pools and spurting blowholes.
A shot from above of the Great Barrier Reef drive. Photo Credit: Tourism Australia.
5) Great Barrier Reef Drive (North Queensland, Australia)
From Cairns to Cape Tribulation, you are incredibly spoilt for choice of views. Sandwiched between two popular world Heritage sites The Great Barrier Reef and the Daintree Rainforest; you won't know where to stop first. A windy coastal drive, our favourite stops along the way is the boutique town centre of Port Douglas and the beautiful waters of Palm Cove. Although only a 140km long journey if you're lucky you may see a crocodile swimming in the river as you pass over a bridge, or a colourful cassowary bird crossing the road.
Get in touch with us today to learn more about personalised travel, and what can be designed just for you and your family.