Often the thought of traveling with children can be overwhelming. But there is no reason to delay those family holidays. With the planning and consideration of a few of our simple tips, there is no reason why you can't enjoy travel with your children. Let's face it, your child will only be a child once, so what are you waiting for?

1. Plan together
Whether it's planning a yearly wish list of the places your child would like to visit, or simply an activity they would like to do at a chosen location, make sure the children are involved in the planning stages. This not only allows children to have something special to look forward to but also is a good way of compromising with your child for any other activities they may not feel favourable towards.
2. Allow for a slow first few days
A child falling asleep at the restaurant table as a result of jet lag or travel tiredness is less than ideal. Instead take the first few days slow, allow children to adjust to the time zone or deal with any bugs that may have been caught on the travel to your destination. Let the children soak up the initial novelty of arriving in a new place, and use it as an opportunity for everyone to catch their breath.
3. Plan the daily schedule right
Once children are well rested after the initial excitement of the trip, it is important to structure the remaining days well. Standing in long lines, going for long drives can be exhausting for children. Rotate a mixture of busy days, half days and days at the hotel pool. By scheduling free days, you allow yourself a buffer for any weather-affected activities.
4. Pack Light
When traveling with children, there is often the tendency to pack everything a child uses at home, instead pack as little as possible. The great thing is there are always children living wherever you go. That means you can always purchase something you may have forgotten. At the end of a long time, it is likely you will have to carry a child, so try to avoid taking unnecessary items, your arms will thank you for it.
Pack light and choose easy travel options like scenic rail travel.
5. Arrange activities that include the whole family
Between soccer practice and working late, today's families are busier than ever. A family holiday is a perfect way to take advantage of surplus free time. By arranging activities that include the whole family, it is the perfect way to strengthen connections, discover a family hobby and the best way to monitor everyone's whereabouts.
Plan a family trek in one of New Zealand's many Great Hikes.
6. Parents, unplug from your devices
If work emails need to be checked while on holiday, schedule your screen time early in the morning or while the children are asleep at night. This allows you to spend quality time with your children, be present, immerse in the culture and your surroundings.
Pick up some chocolate, as part of your snacks pack, from the Wellington Chocolate Co.
7. Pack snacks
It could be a delayed flight or unexpected traffic on the way back to your hotel. When traveling it isn't always easy to stick to a planned eating schedule. Even worse the food at your destination could be too intrepid for your child. By carrying snacks from home you know your child enjoys, you can ensure those tummies stay full and happy.
Let's the kids take the creative reigns with a camera. Photo credit: Great Journey's of NZ
8. Give your kids a camera to use
Giving older children a durable point and shoot camera or an old phone to take photos on can be a real win. Not only does encourage them to focus on what is happening around them, but the photos taken also provide a great talking point when they return to school or to show family and friends.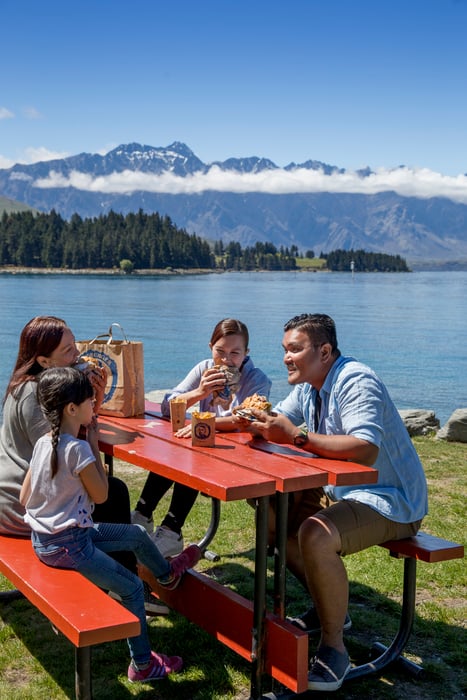 Photo Credit: Tourism New Zealand
9. Accept that things will go wrong
By accepting things will go wrong prior to your trip will help to decrease pre-trip anxiety. The sooner you accept the inevitable the less stress you will feel when it happens. Everything might not always go according to plan, but nothing opens a children's mind like new experiences.
10. Let us help you
We're parents ourselves and we're here to help give travel recommendations for places and experiences for you and your tribe. After all, only a parent who has handled sick, fussy or tired children can begin to understand the complexity of traveling abroad with children!