An idyll of lush vineyards, olive groves and sparkling white sand beaches, just 30 minutes under sail from Auckland City.
Welcome to Waiheke - you're on island time now...
Isle of Wine
With 30 boutique vineyards on an island of just 92 square kilometres, Waiheke has earned its moniker of Island of Wine. World-class wine at that.
Some of our favourite wineries include: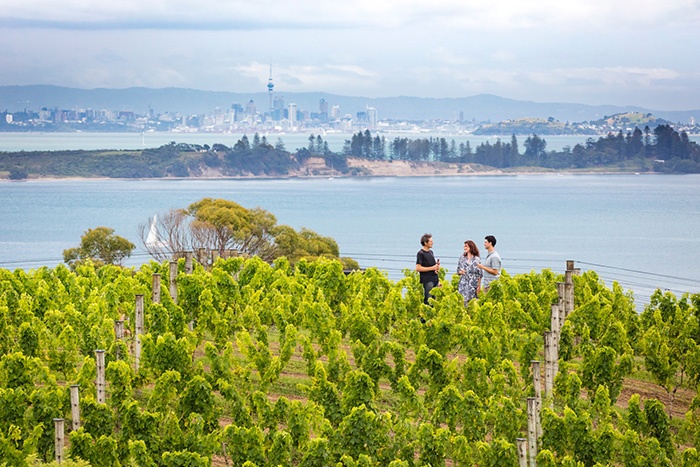 Image by Miles Holden via Tourism New Zealand
Mudbrick
This Italian-inspired, warmly-rustic winery is considered one of the finest on the island - in fact, one of the finest in New Zealand. Here, sublime cuisine and exquisite wines are served up with spectacular, sweeping views across the Gulf, and an atmosphere that we think sums up Waiheke - sophisticated yet relaxed. Mudbrick is a don't-miss for foodies and lovers of the good life. Especially magical at day's end, watching the sunset as it paints the gulf (and the distant city) in gold.
Stonyridge
Stonyridge is one of New Zealand's most globally-respected producers of wine, focusing on Cabernet blends. We recommend joining one of their weekend guided tours, exploring the valley of vines and private olive groves the property is nestled in, before enjoying a leisurely winery lunch - complete with a glass of one of the world's finest reds.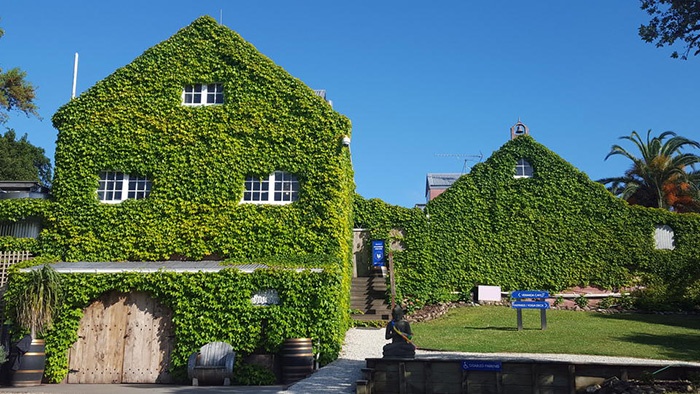 Cable Bay
Cable Bay produces incredible wines, and invites you to sample them from the Cellar Door, or at one of their two award-winning restaurants - one luxurious and elegant; the other casual and contemporary. The Dining Room boasts incredible views from floor to ceiling windows and seasonal plates crafted from the wineries own organic gardens. The Verandah is nestled amongst vineyards and olive trees, with a sprawling outdoor terrace and lawn. Relax back in a beanbag and take in phenomenal views across the Hauraki Gulf to Auckland city, as you graze on Meditterranean-inspired sharing plates, slow-roasted meats and pizzas from the outdoor kitchen.

Tantalus Estate
Located in a 20-acre pocket of the Onetangi Valley, Tantalus Estate re-opened in late 2016 after extensive re-development. The aesthetic transformation, courtesy of Cheshire Architects, is spectacular and no detail has been overlooked. Besting the design though, is the excellent wine, bliss-inducing beer from the onsite craft brewery, and sensational, seasonally-focused dishes in the new Tantalus Estate Restaurant.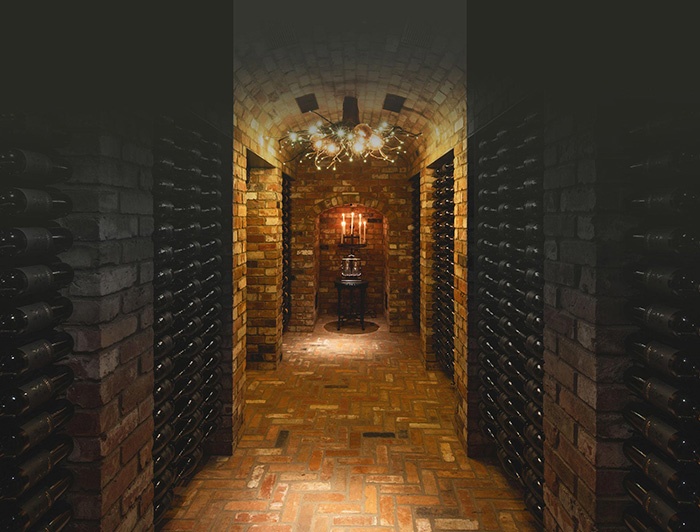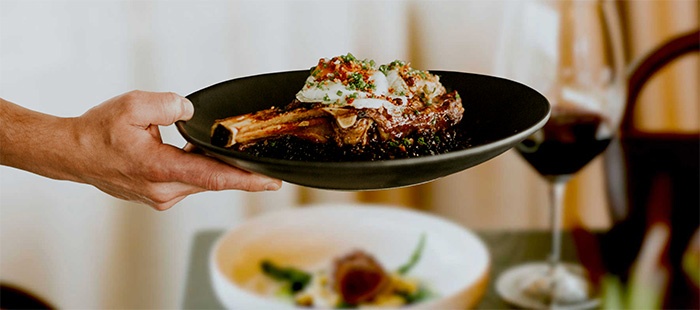 Man O War
There is so much to love about Man O War. First, its rather remote location. It's a half-hour drive on a dirt road to get here, or you can arrive by boat, or ask us to arrange a private seaplane transfer from Auckland. There's a huge focus on sustainability here - they even produce their own honey, from hives dotted in the native bush that surrounds the property. It's also Waiheke's only true beachfront winery - with a beachfront tasting room, picnic tables to enjoy one of their amazing sharing platters at, and activities like lawn cricket for kids (and big kids) to enjoy.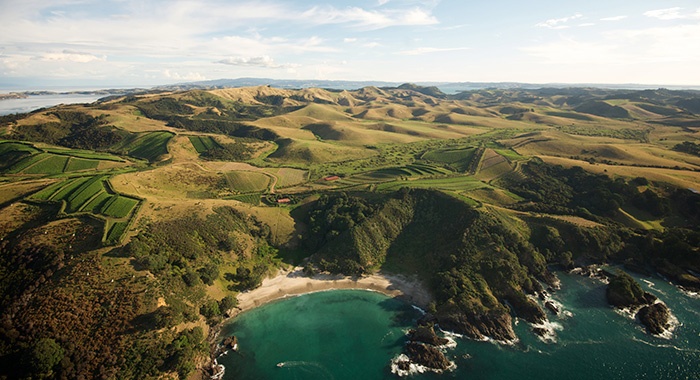 If you're a wine lover and a cognoscenti of cuisine, ask our team to create a special itinerary for you, taking in these wineries mentioned, but much more besides.
Pristine Beaches
Make some time to do.... nothing, on one of Waiheke's beautiful white sand beaches. The most popular spots are Oneroa, Palm Beach and Onetangi, where sparkling azure-water awaits for you to take a dip, dry off in the sun, picnic, and repeat...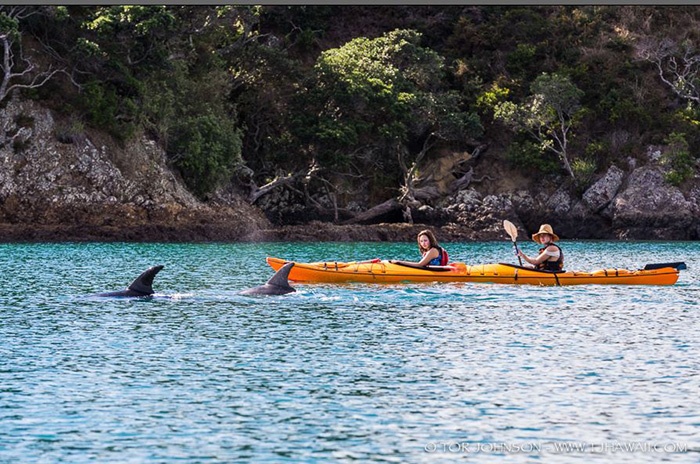 Some of Waiheke's most secret, secluded beaches and bays can only be accessed by boat or kayak. Join a great guided kayak tour, or hire a kayak or paddleboard to explore the coastline at your own speed. Discover thriving sea and bird life, see stunning homes and unique New Zealand baches that dot the island's coastline, and visit the many coves, and canyons beneath rocky cliffs that only kayaks can reach.
Gourmet Tours
We could write an entire feature (or two) on the fabulous foodie tours Waiheke has on offer (the olive oil here is some of the best on the planet), but one of our newest discoveries and recommendations is The Botanical Distillery, run by two passionate women who will immerse you in the aromatic world of botanical plants, artisan spirits and distillation.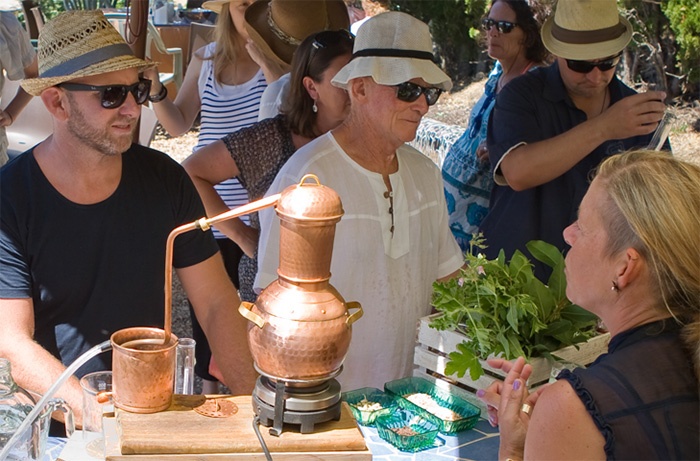 One of their most popular events, The Gin & Tonic Experience, will see you creating your own bespoke botanical gin, with hand-crafted tonic water. Cheers!
Kids will love the opportunity to make their own lip balm or fizzy bath bomb using distilled essential oils and other natural ingredients.
The Magic of Maoritanga
Discover Waiheke Island from a Maori perspective with our friends at Potiki Adventures. Learn about the fascinating cultural history and significance of the island, explore native bush and beautiful beaches, and experience authentic Maori customs and culture. There's even an opportunity to spend a night on a real Marae, sleeping within the sacred ancestral meeting house.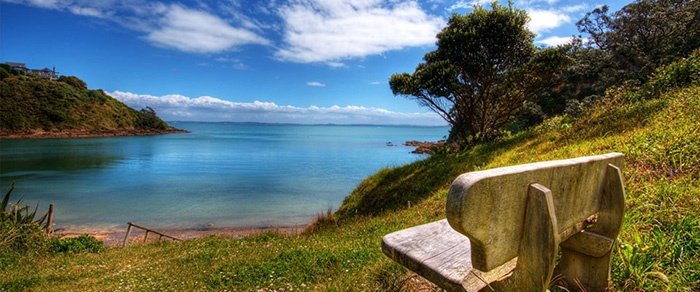 The Best of Boutique
The Oyster Inn, a modern micro-hotel located in Waiheke's main village of Oneroa, is one of our favourite accommodation choices on Waiheke Island. There are just three guest rooms, each decorated in a chic and contemporary style thanks to celebrated New Zealand designer Katie Lockhart. The understated luxury extends to the hotel's (multi-award-winning) restaurant and bar, positioned - as the guest rooms are - to take full advantage of the stunning ocean views. For more images of The Oyster Inn and our full Travel Journal feature, click here.
Another superb accommodation is The Boatshed - our honeymooners especially love this place. Stay in one of the signature Boatsheds or Bungalows - with their nostalgic beach hut feel, louvered shutters, private decks and open fire. For views on high, there's also the perfectly-named Lighthouse (reached from a three-storey spiral staircase - there's even a dumb waiter to get your meals up to you!) and The Bridge.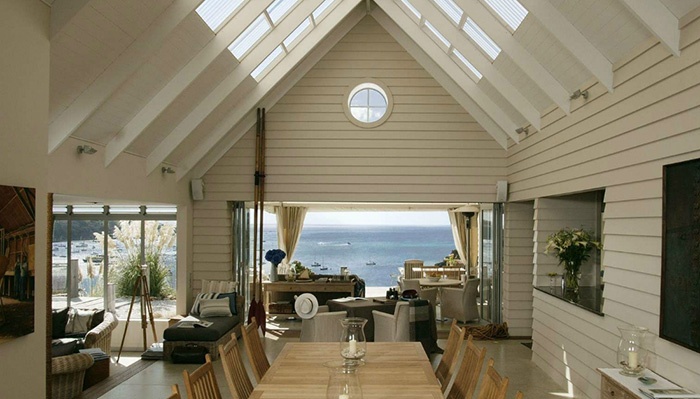 This coming summer, the property will be launching two new luxury lodgings. There's The Owners Cottage, a 120 square metre cottage and additional cabana with your own dedicated staff, a private heated swimming pool and no less than three fireplaces, and the Watertower, a modern, zinc-clad 3 story tower with expansive North, West and South-facing sea views, and its own contemporary roof garden with a bath for two.
Knowing just how well The Boatsheds owners do things, we can't wait to get back to Waiheke to experience these new offerings. The Boatshed also has great little cars for hire, to help get you around the Island. To read more about boutique New Zealand accommodation including The Boatshed, click here.