Let us introduce you to Wanaka – a tiny resort town, set on the shores of its namesake lake, and positioned at the gateway to the magnificent Southern Alps and a UNESCO World Heritage area.
Wanaka's lakefront village itself is fabulous, with stylish galleries, modern eateries and destination shopping all set against a backdrop of snowcapped mountains. It's the perfect base from which to venture out into the wilderness that surrounds Wanaka – to discover alpine lakes, world-class ski resorts, jaw-dropping glaciers, ancient beech forests and so much more…
A must-watch: a little taste of Wanaka
Winter in Wanaka – image via Lake Wanaka Tourism
Autumn in Wanaka – overlooking Rippon Vineyard (their restaurant and cellar door is a must-visit!)
Photography by David Wall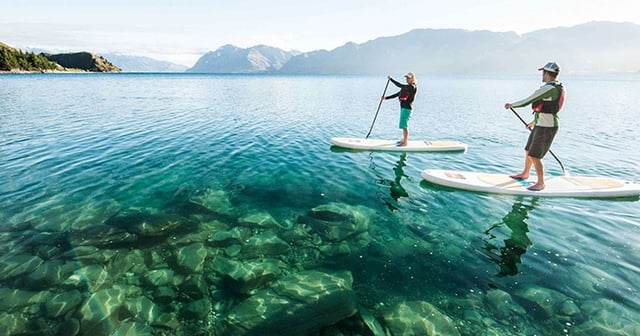 Summer at Lake Wanaka – this small resort town is stunning anytime of year
In today's journal entry, we're sharing just a few of the memorable activities on offer in Wanaka…
On Top of the World – Roy's Peak
Perhaps the most Instagrammed summit in all of New Zealand, Roy's Peak offers absolutely phenomenal views across Lake Wanaka and its surrounding mountains. It's one of those truly breathtaking scenes that photos never do justice to.
A 5-hour hike to get to the peak by sunrise is a real #bucketlist experience, but equally as memorable is climbing aboard a 4WD and being driven through an authentic High Country farm, before being flown by helicopter to what feels like the top of the world.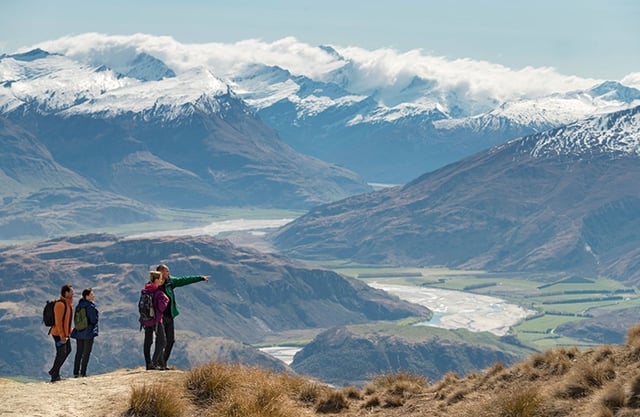 Hiking to Roy's Peak. Image via New Zealand Department of Conservation
On the journey to Roy's Peak with adventure guides Ridgeline


Imagery via Tourism New Zealand, photography Miles Holden
Lake Cruise & Remote Island Walk
Take a day cruise on Lake Wanaka, headed for the remote and magical Mou Waho Island. The island is a protected reserve, being home to rare wildlife including the flightless Buff Weka bird – which has actually been extinct on mainland New Zealand since the early 1900's! Hike through lush native bush to discover Mou Waho's secret – a gorgeous lake perched at the top of the island. Enjoy a delicious morning or afternoon tea as you drink in the views of this lake and larger Lake Wanaka, and out to the snowcapped Southern Alps beyond, and plant a native tree as a way to give back to this very special place.
The Buff Weka may be highly endangered and flightless, but they're also very curious wee creatures!
A lake, on an island, in a lake
Alpine Lakes Heli Hike
Our luxury travel partner, Eco Wanaka, invite you aboard their bird to fly deep into a World Heritage Conservation area, and 1400m above sea level. Touching down in this remote landscape, you'll set off on a 2-hour scenic hike, through tussock herb fields, past ancient glaciers, and along spectacular ridges to discover three emerald-clear lakes.
There's plenty of time for photos and refreshments before your helicopter returns and whisks you off to one last top-secret mountain location for the most amazing ending to an unforgettable day.
Glacier and alpine lake views from the Alpine Lakes Heli Hike experience. Imagery via Eco Wanaka
Luxury Wilderness Retreat
Where possible, we book our clients in to stay at Minaret Station, a multi award-winning, world-class luxury lodge. Click here to read more about Minaret Station luxury accommodation.
Window to Wanaka
These short videos offer a window into life in Wanaka in different seasons of the year – take a look!
Ready to start planning the holiday of a lifetime in New Zealand? Contact our team of luxury travel specialists today!